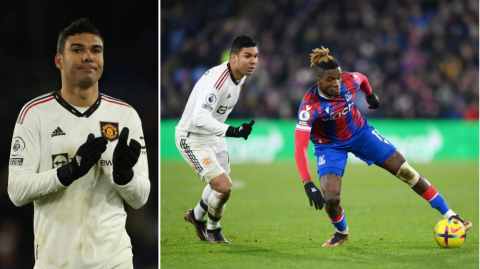 Casemiro was left 'furious' with Manchester United teammate Bruno Fernandes after the yellow card that will rule him out of the big clash with Arsenal.
The Brazilian midfielder started the match against Crystal Palace a booking away from picking a one-match suspension with that trip to Emirates looming large on Sunday.




On 80 minutes with Palace piling up the pressure, the former Real Madrid player cut down Wilfried Zaha as the Palace attacker threatened to go past him.
In the sequence that led to the challenge earlier, Fernandes was unable to win the ball, beaten to it by Mitchell who brushed past a weak challenge from the Portuguese star. From there, he was able to find Zaha who was brought down.
As the referee reached for his yellow card, Casemiro was seen staring in the direction of Fernandes with a rueful look on his face with Sky Sports pundit Jamie Redknapp saying Casemiro was let down by his teammate.
'From Manchester United's point of view, it couldn't have got any worse,' he told Sky Sports.




'We spoke before the game about Casemiro, don't get a yellow card. Don't get booked, don't get in any confrontations, he is so important and they need him on Sunday. He gets booked and it is as if it took the sting out of Manchester United, it affected them so much, they knew their talisman and most important player in that defensive role had gone.
'It was a moment of madness, you can see he was furious with his teammate Bruno Fernandes, he jumps out of a challenge and that is how he ends up getting booked. It could have been a red card.
'Mikel Arteta would have been jumping around his living room, they [United] have got no one who can do like he does in the team.'
Redknapp added: 'As a player in that position, all his career he has made those tackles, you get booked sometimes but it is instinct. It is what he has done, he doesn't know what else to do.
'Of course he doesn't want to make the challenge because he knows the consequences. But he is furious there with his player. If looks could kill. They just couldn't get over it.'
Former Crystal Palace player Glenn Murray also believed the 'weak challenge' from Fernandes left Casemiro in a bad spot, but said the challenge on Zaha was unnecessary with Raphael Varane positioned to cover.




'He didn't need to make the challenge because Varane was covering. You can see the confrontation between him and Fernandes and it was frustration. Frustration over his lack of awareness getting closed down, it was a bad pass out to Fernandes and then a weak challenge from Fernandes at best.'