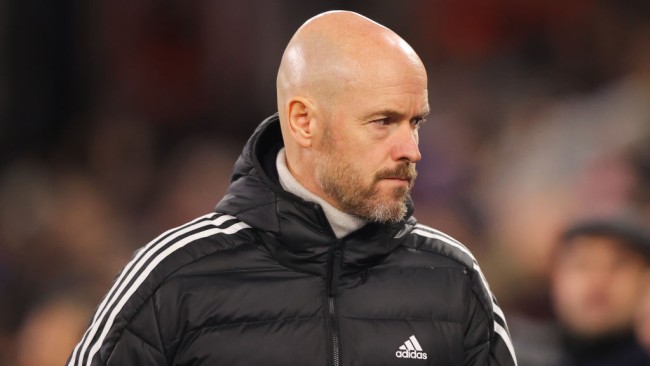 Erik ten Hag has defended Antony and denied that his Manchester United teammates are frustrated with his dissplays.
Antony followed Erik ten Hag from Ajax to Old Trafford last summer in a deal worth £84m, making him United's second most expensive signing of all-time just behind Paul Pogba.




And after the winger scored in each of his first three games for the Red Devils it seemed that it was money well spent.
But since then, he has failed to score in the league again and is yet to provide an assist.
The Brazil international's displays have come under much scrutiny, most recently from Arsenal legend Ian Wright, and some believe the time has come for Ten Hag to drop him to the bench, but the Red Devils manager sahs that the player is a vital part of his team.
Speaking in his pre-match press conference ahead of United's Carabao Cup semi-final clash against Nottingham Forest, Ten Hag said: 'When he's playing, the team is winning. That already gives a message of how well he is performing.




'He can do better, I see space for improvement. For instance, and I think also you know this, we want him to be more direct and be more involved. But, as I said, the team is performing better if he is on the pitch.
'That's a good thing, that's a good base to build further. I think he has already made an improvement. In his first three [league] games, he scored three goals.

'Now he was scoring against Everton, he was scoring against Charlton, so also that fact, he has an impact. But I think with his capabilities, with his talents, he can do even more.
'But as I said, I think he has [made] a good contribution in the team.'
Ten Hag also addressed if there was a rift between Antony and his teammates after he was seen in an argument with Bruno Fernandes during the 1-1 draw at Crystal Palace last Wednesday.
He said: 'I think that can happen. They are both players who play with the heart and, when they bring that in the game, they are on their best so it's always a kind of balance.
'And always between players, sometimes emotions flare up but I think, in the second moment, they are already good with each other so that is not a problem. I think definitely the players are not frustrated with him.'