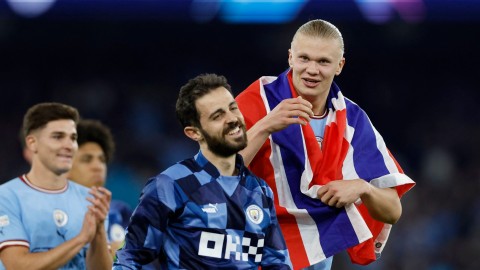 Manchester City's CEO Ferran Soriano has fired back at claims that Pep Guardiola's side are only successful because of the money they spent on new signings.
Man City thrashed Real Madrid 4-0 in the second leg of their Champions League semi final on Wednesday to secure their place in the final against Inter Milan on June 10.




Guardiola's side could also retain their Premier League title if they beat Chelsea at the Etihad on Sunday, while they are also on course to win the treble this campaign as they play Manchester United in the FA Cup final.
City's huge success has been overshadowed after the Premier League charged the club in February with breaching financial rules on more than 100 occasions over a number of years.
But despite facing many allegations of financial doping, Soriano says City have not overspent in comparison with their Premier League rivals.
In a defence of City's spending after their Madrid victory on Wednesday, Soriano told Movistar: 'Look, you only have to look at the investment in players in England in the last year, three years, five years… we are never the club spending the most on players.

'There are many other clubs investing more money than us – Chelsea, Manchester United, Arsenal.
'Saying that we've spent a lot of money and we won because of that is just not true.'




BIGGEST SPENDERS OVER THE LAST DECADE
1. Chelsea (£1.82bn)
2. Man City (£1.5bn)
3. Man Utd (£1.45bn)
4. Juventus (£1.44bn)
5. Barcelona (£1.42bn)
6. Paris Saint-Germain (£1.29bn)
7. Arsenal (£1.04bn)
8. Liverpool (£1.01bn)
9. Real Madrid (£999m)
10. Tottenham (£960m)
(According to Transfermarkt)
Soriano also discussed the prospect of Man City finally winning the UEFA Champions League for the first time in their history.
'The Champions League is a bit symbolic,' he said.
'We work every day for the Premier League, it's a very difficult tournament to win. If we do it this year, it will be the third in a row, five in six years.

'From my experience, I know that you cannot base all your strategy on winning the Champions League, because it depends on the draw, a bad day… but yes, when we win it, which we will do one day, it will be something symbolic.'