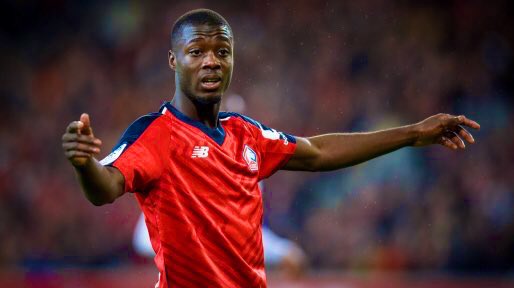 Nicolas Pepe is currently in London with his agents to undergo his medical at Arsenal after a deal was agreed with Lille, according to Sky Sports news.
The 24-year-old is set to join Arsenal this week and would be the Gunners' fourth signing of this summer window, after the arrival of Gabriel Martinelli, Dani Ceballos, who joined on a season-long loan from Real Madrid, and defender William Saliba.




Pepe scored 22 goals in Ligue 1 last campaign, second only to Paris Saint-Germain's Kylian Mbappe, while also providing 11 assists, also the second most in the Fench Ligue 1, as Lille finished second.
It was initially reported that four teams had reached an agreement in principle with the Ivorian forward, but Arsenal and Napoli emerged as the two frontrunners in the race for his signature.
However, The north London side's willingness to pay the agent appears to be what gave them the edge over Italian giants Napoli, as well as a number of bonuses for the Lille star.




It is understood that the €80m fee for the winger will be paid out over various instalments, allowing the club to spread the cost in accordance with their summer budget.
The Pepe transfer has come in after the gunners failed in their attempt to sign Crystal Palace winger Wilfried Zaha and, according to the Independent, this happened because Palace wanted an outright fee as opposed to an instalments-based one that Arsenal were offering.
Another factor was ​Zaha's wage demands, with Pepe's salary far easier to accommodate. This has left the 26-year-old fretting over his future, with his hopes of a transfer now resting on Everton, who saw a £55m bid turned down.
On Nicolas Pepe, Lille defender Jose Fonte said: "He's incredible, If he can reach the same level, which I believe he will, that he did last year with Lille then I think Arsenal fans will be very happy.




"I'm happy for him if it happens, the Premier League is the best league in the world, Arsenal is a great club. I'm excited to see him play in the Premier League, to be honest."