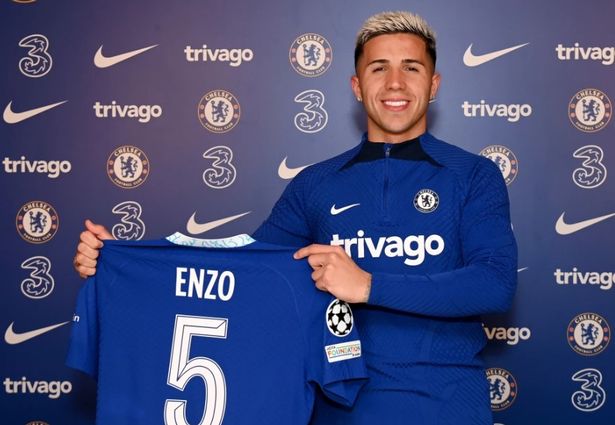 New Chelsea signing, Enzo Fernandez will wear the No.5 at Stamford Bridge – but only in the Premier League.
The Argentina international joined the Blues from Benfica for a British-record transfer fee of £107m on deadline day.




He has signed a contract until June 2031 at the club and should be available for Chelsea's home match against Fulham on Friday.
Chelsea eventually confirmed Fernandez will wear the No.5 shirt on Wednesday evening.
The number is available after Jorginho completed his move to Arsenal on deadline day, but Fernandez will not be permitted to wear it in the Champions League due to a UEFA rule.
UEFA do not allow two players to wear the same number at a club during the same campaign. Therefore, Fernandez may have to pick an alternative jersey for Chelsea's upcoming Champions League matches against Borussia Dortmund in the last 16.




Fernandez could take the No.2 or No.3, which have not been used in European competitions this campaign after the departures of Rudiger and Marcos Alonso. Other options include the No.25 & No.55.
Fernandez would not be the first player to wear a different shirt in a European tournament. Andy Carroll wore the No.29 in the Europa League for Liverpool after replacing Fernando Torres in the squad in January 2011.
Henrikh Mkhitaryan wore the No.77 for Arsenal in the Europa League after his move from Manchester United in January 2018, despite sporting the No.7 in the league. That was due to Alexis Sanchez wearing the No.7 in Europe that same season.
Other examples include Erik Lamela's No.33 shirt at Tottenham in 2013/14 (No.11 in the league), Lionel Messi's No.30 shirt at Barcelona in 2005/06 campaign (No.19 in La Liga).
However, UEFA may make an exception when Fernandez is included in Chelsea's squad for the knockout stages of the Champions League.
He is eligible to play in Europe, despite playing for Benfica earlier in the tournament. UEFA have abolished their cup-tied rule.




Meanwhile, Benfica paid just £10m to sign the midfielder from River Plate only seven months ago – making a huge profit. River Plate have also cashed in due to the 25 per cent sell-on clause.
Chelsea tried to sign Fernandez on the cheap but were thwarted when Benfica said they were not interested in negotiating. In the end, they agreed to pay his release clause and completed the deal moments before the end of the window.