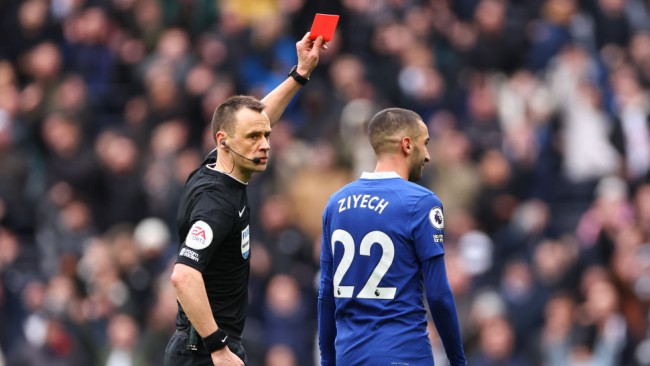 It was a confusing few minutes in the London derby on Sunday as the Tottenham vs Chelsea clash descended into chaos, Hakim Ziyech was sent off and then it was rescinded.
In the first half of the derby, Kai Havertz had a kick at Spurs star Richarlison before Ziyech brought down the Brazilian.




That caused a scuffle, which saw Emerson royal shove Ziyech in the back and the Moroccan star responded by pushing him in the shoulder, but his hand slipped over the shoulder and into the player's face.
It wasn't clear what was going on as referee Stuart Attwell booked Havertz and Emerson and then, after a delay, showed Ziyech a red card, but went to the VAR screen and decided to rescind it, instead giving him a yellow.



The decision to show the red card and then go and look at the monitor seemed off, but Sky Sports' Kelly Cates explained the situation at half-time.
'Havertz is booked for the initial challenge, Ziyech gets involved, a lot of other players get involved and Royal is also booked,' Cates said.
'However, there is then an incident involving Hakim Ziyech, they see Royals' face being pushed, that's what the on-field referee Stuart Atwell has seen when the players all gather around him.
'It goes to his assistant, they've seen Emerson Royal has been pushed in the face but haven't seen who's done it.




'The VAR, Paul Tierney and his assistant, say it was Ziyech, the referee on the field then has to make a decision, so he gives a red card to Hakim Ziyech.
'Then he can go over to the monitor once the decision has been made, and then he makes a decision on whether or not it was a red card.
'At the end of all of that, Royal and Havertz are booked. Ziyech is given a red card and that red card is then rescinded after Stuart Atwell has made it over to the monitor.'

Former Chelsea striker Jimmy Floyd Hasselbaink felt that Attwell got to the decision correct, saying: 'Well done to the referee to return it to yellow, I think it was the right decision.'