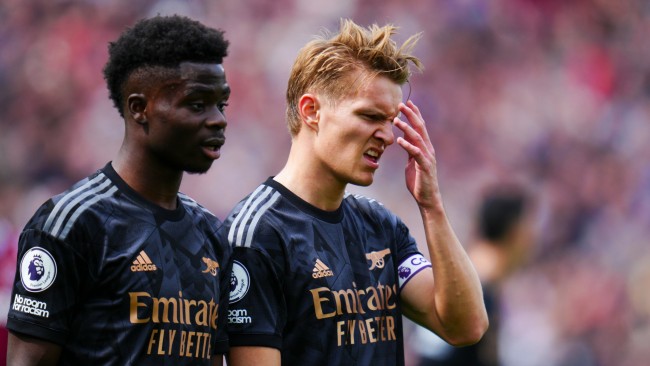 West Ham forward Michail Antonio says an Arsenal insider has told him that Mikel Arteta's stars are starting to become concerned by Manchester City's form in the league title race.
Arsenal are four points clear of Ma City at the top of the Premier League but Pep Guardiola's team have an outstanding game and have won their last six league matches in a row.




The Gunners, meanwhile, threw away a two-goal lead to draw 2-2 with Liverpool earlier this month and did the same on Sunday as they wasted an early advantage to be held by West Ham.
And Antonio says Arsenal's players are now starting to be aware of Man City's impressive run of results.

'I heard this from someone who works at Arsenal – all season they've been concentrating on themselves, just playing how they play, they've been playing so well,' Antonio said on the The Footballer's Football Podcast.
'But last week when they drew with Liverpool and City got a bit closer it was the first time all season that this person heard [Arsenal's] players start talking about City and how well City have been playing.
'So they are definitely feeling the pressure from City chasing them. It's just how they deal with it at the end of the day.
'City are used to chasing people down and doing this. They like to do it, I think they do it on purpose, they make it difficult for themselves to chase people down.'

Antonio also dismissed accusations that Arsenal are throwing away their league title chance with their last two results.
'I wouldn't say they're bottling it,' said the West Ham star. 'I said at the beginning of the season there would be a stage in January where they'd hit a blip and wouldn't be doing as well as they did. They are probably just hitting that now.
'But I don't think they're bottling it. At the end of the day they're still four points ahead, City still have a difficult game in hand against us [West Ham].
'It's still a lot to play for. I wouldn't say they're bottling it, they've hit their blip, which everyone always expected them to do. They're not hitting their blip by losing games, they're throwing away two-goal leads.'




'We started off well in the first three minutes, we was on top of them, challenging, I think we had a shot, we got a corner, then they had one attack and it was a goal, then they had another attack and it was a goal and it was like, 'oh, this is going to be five',' Antonio added.
'Basically what Arteta has done he's been at City, watched everything Pep has done, he's moved away to Arsenal and he's copied and pasted at Arsenal.
'I'm not caning Arteta, the skills to actually do what you're doing, study it, come [to Arsenal] then actually pull it off, even though the guy [Pep] who has mastered it is there and you're beating him at doing his own thing, it's unbelievable.
'The craziest thing is, how they're doing it, I was watching the game and I was like, 'if I shut my eyes this could be City'. It's exactly how they play, they had the wingers wide, midfielder's in the two No.10s, they had the striker coming deep, Jesus was picking it up at No.6.
'It was a mess, you can't stay in your shape. They move you out of your shape, it's unbelievable. You saw it with the first goal, even with the second you see Odegaard running far stick but Saka's run Cresswell in, so he's gone inside, Odegaard's run off the back of Cress because there's an extra man there, so people are saying Cress left his man – he didn't – because Cress had somebody, Odegaard was just a spare man because they're just everywhere.
'The quality is unbelievable. I rate them, I actually want them to win the league, I actually do. I've got a few friends at City but I would actually like to see them win the league, it's something new, something fresh.'