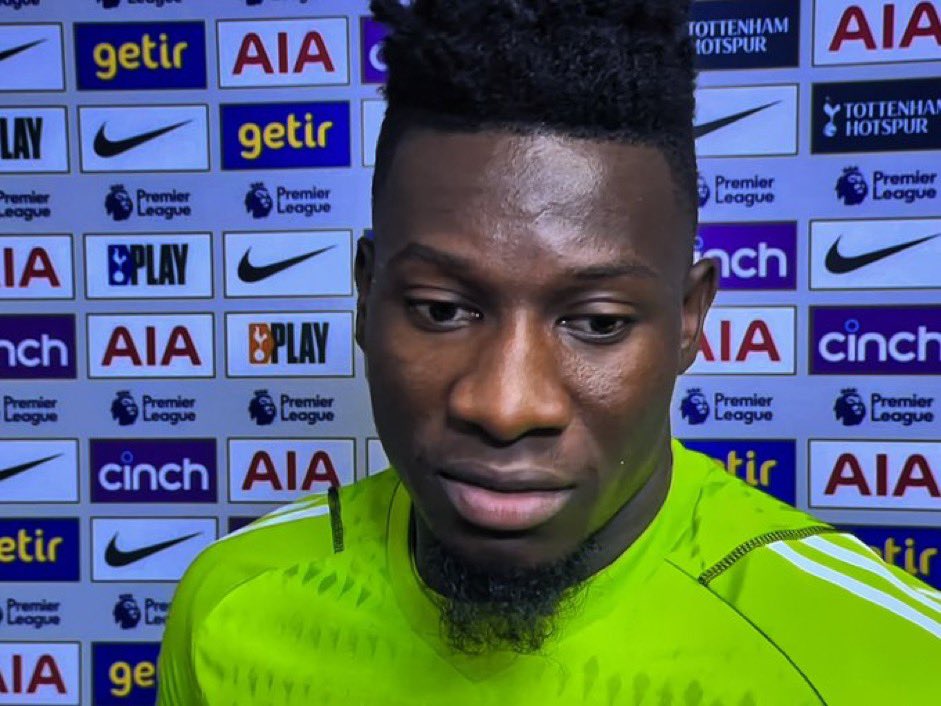 Andre Onana boldly claimed that Tottenham were not the better team after they beat Manchester United in the Premier League.
On Saturday evening, the Red Devils were second best as they were clearly beaten by Ange Postecoglou's men.
A goal from midfielder Pape Sarr and an own goal by United's centre-back Lisandro Martinez secured a much-needed 2-0 winfor the North London club.
Speaking to Sky Sports after the game, goalkeeper Onana boldly claimed that Spurs were not the better team on the day.
He said: "No. I don't think they were better than us."
Fans quickly reacted on social media. One said: "Onana just said Spurs weren't the better side. That sums it perfectly. You can't improve as a club if you don't accept where you are."
Another tweeted: "If Onana genuinely thinks Spurs weren't the better side then they're in for a long season."
A third supporter added: "Onana doesn't think Spurs were the better side !!! Is he getting the teams mixed up ? Does he think Spurs were in red?"
Someone else wrote: "Onana thinks they were the better side??? Delusional"
Manchester United manager Erik ten Hag said: "We created the chances, the first half was completely ours and then you have to score. We created the chances but we didn't put them in the net.
"Also we deserved a penalty. We didn't get it, so you have to accept it. That's the way the game is. So it was not our day."
He added: "I see the start as a few more games. We are disappointed today. We have to look at ourselves to score our chances, and we did not. The first goal is very important in Premier League games."
The Red Devils will be back in Premier League action next weekend as they face Nottingham Forest on Saturday.