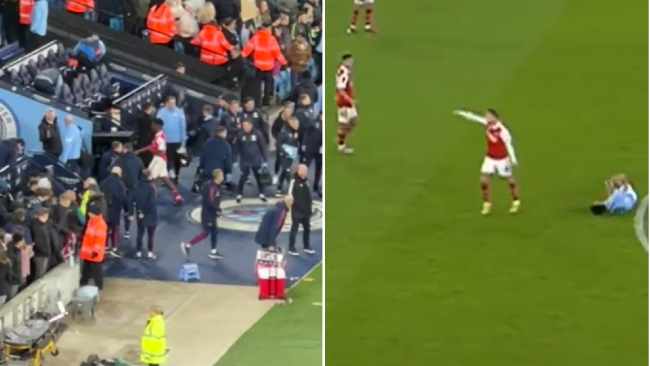 Albert Sambi Lokonga headed straight down the tunnel after being given an on-pitch grilling from skipper Martin Odegaard in Arsenal's FA Cup defeat to Manchester City.
The 23-year-old was introduced at the break at the Etihad on Friday in place of Thomas Partey – who injured a rib and will undergo a scan – and gave a poor display in midfield.




Lokonga lost his man several times and left acres of space in front of the back four, with Julian Alvarez granted space to fire off a shot from the edge of the box on a number of occasions – the first of which resulted in Nathan Ake's decisive goal.
As the seconds ticked away and the game entered injury time, Lokonga was still being dragged out of position by Man City's attackers and that prompted a furious dressing down from Odegaard.
The Norwegian, who came on late in the game, can be seen gesticulating at his team-mate to stop following the runners and instead mark the man in space, and on this occasion it was Gundogan.
But Lokonga was dragged out wide leaving Gundogan with the freedom in the middle of the pitch, and he was picked out by a pass between the lines.




Odegaard was absolutely angry, throwing his arms up in the air in disgust, and was forced to foul Gundogan in order to stop the move from progressing.
After doing so, he turned to Lokonga and started shouting at him, pointing to the position where he should have been and holding up several fingers to suggest it was not the first time he had been guilty of it.

Xhaka can be seen questioning the Belgian while Fabio Vieira throws his hands up in confusion when Gundogan receives the ball under no pressure, and Lokonga was not happy when the final whistle was blown.
While the rest of his team-mates chatted with Man City's players and acknowledged Arsenal's travelling fans, Lokonga made a beeline for the tunnel & headed straight to the dressing room.
Ian Wright and Roy Keane were critical of the midfielder's performance afterwards, with the latter saying his lack of understanding of the role was a 'big concern'.
'With someone like Sambi, he needs minutes, he needs to be playing, he needs to be able to understand and be more wary of where he is and what he needs to do and where he needs to be dropping in,' said Wright on ITV afterwards.




'You've got to kind of sense that danger and that's why he needs the minutes in games of this quality, because that's where you learn.'
Keane, though, was not in the mood to excuse Lokonga's below par display, saying: 'But you hope at this stage and at this level they've already learned that part of the game. It's a big concern.'