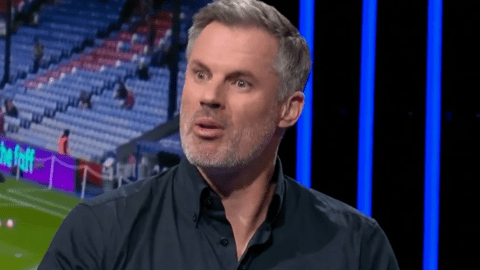 Jamie Carragher has hailed Arsenal attacker Bukayo Saka as one of the best players in the world at the moment.
The 21-year-old played a major role in Arsenal's title challenge last campaign, registering 14 goals and 11 assists in 38 Premier League appearances.
Saka has also been impressive at international level and helped England reach the Euro 2020 final, as Gareth Southgate's side finished as runners-up to Italy.
He has registered a total of 39 goals and 41 assists across 181 matches for Arsenal since making his debut for the Gunners.
He has started this season well, too, registering an assist in the Community Shield win over Manchester City and a goal in the victory over Nottingham Forest last week – Arsenal's first game of the new Premier League campaign.
'The thing with him that stands out… when you think of players across Europe, what he's doing now in the Premier League, almost won a title last season,' Carragher said on Sky Sports.
'When you think about the great right wingers in the game right now… when you call someone one of the best four or five in the world you might think, 'You're going too big' – but you can't think of many more players in his position who have produced what he has done.
'Certainly over the last 18 months. You think what he has done for England as well. He is a special, special player and he is right up there with the best we have seen in Europe and the world right now.'
Gary Neville added: 'I absolutely love him. Everyone loves him and you can't help but love him. You see so many talented young players that have that skill and ability, but usually you don't see it with reliability and consistency.
'To marry them both together is when you have something really special, and he is special, there's no doubt. He's tough physically and mentally and he's robust in the sense that he gets walloped by defenders every week. He's fantastic in every sense.'