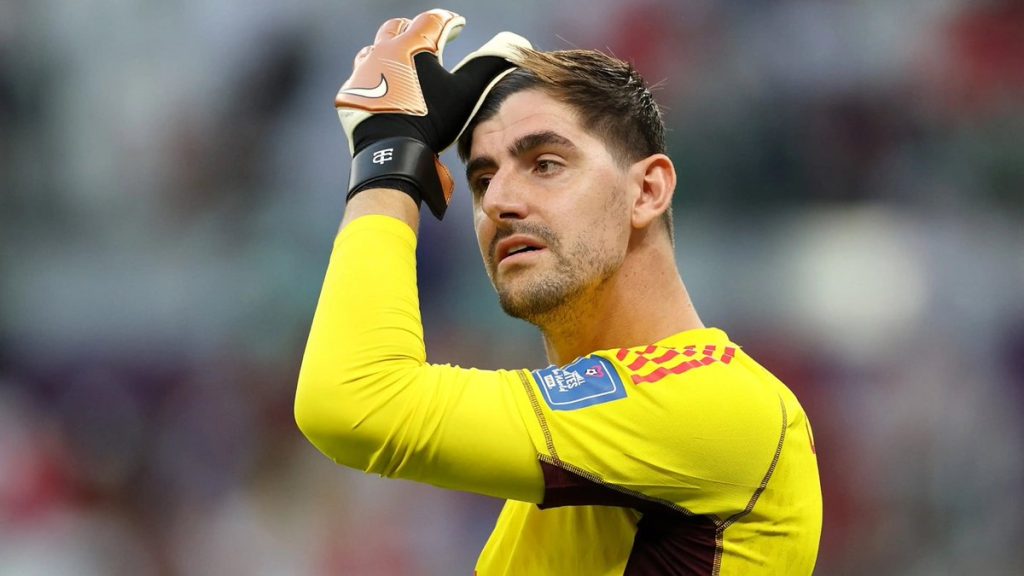 Thibaut Courtois failed to report for Belgium on Sunday after Romelu Lukaku was named captain ahead of him for their clash with Austria, according to reports.
In the absence of Kevin De Bruyne, Lukaku led the team out on Saturday with Courtois passed over for the role in a pre-planned move by Domenico Tedesco. Instead, the Real Madrid keeper was set to be captain against Estonia.




But, Courtois took exception to the decision and was not present when the team gathered at their hotel to start preparations for their next Euro 2024 qualifier.
That is according to Het Nieuwsblad, who have also revealed that the 31-year-old was honoured for his 100th cap at the weekend.

His fiancée, Israeli supermodel Mishel Gerzig, had awarded the Madrid goalkeeper a special memento just a week before their wedding.
'Thibaut Courtois is very important to us,' Tedesco said on Saturday night. 'I can't tell you how much I appreciate him.
'On Saturday I had a conversation with Romelu and Thibaut about the captaincy. Against Austria it was Lukaku, against Estonia, Thibaut gets the credit.  'It is important to us that he feels valued.'
It is reported that Courtois ripped into a number of team-mates in the dressing room after the draw, a game in which Lukaku's equaliser spared his team's blushes, with players believing there was more to his bluster after his absence.

Courtois is also carrying a slight injury, the same publication adds, though Tedesco's camp are not aware of any possible setback.
It is still unclear how Tedesco will respond to the player's drastic step, but a press conference scheduled for this evening could shed more light on the issue.
Back-up goalkeeper Matz Sels, formerly on the books at Newcastle United, could replace Courtois between the sticks tomorrow, with Casteels ruled out.
Reserve options Kaminski and Arnaud Bodart are also in contention to play.
And former Chelsea star Courtois has made 102 appearances in total for Belgium and made his senior debut in a friendly draw with France in 2011.
He is yet to taste major success on the international scene but he won a bronze World Cup medal after his nation finished third in Russia in 2018.