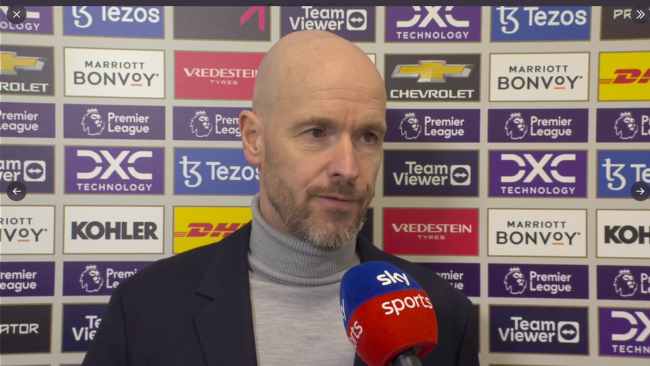 Manchester United manager Erik ten Hag singled out three players for praise after his team's 'rubbish' first half performance in a 3-0 victory against Leicester City.
A brace from Marcus Rashford and another from Jadon Sancho gave the Red Devils a comfortable win against the Foxes.




But Brendan Rodgers' side dominated much of the first half and was close to opening the scoring through Barnes & Kelechi Iheanacho.
United had David De Gea to thank on both occasions, with the Spanish shot-stopper making two sensational saves to keep the scores level.




The home team then took the lead when Rashford raced on to Bruno Fernandes' pass and that left Leicester City deflated.
United took a hold of the match when Sancho replaced Alejandro Garnacho at the break and the England winger got on the scoresheet when he played a one-two with Fernandes and finished past Danny Ward.
'We are happy with the result; it's a great result,' said Ten Hag.
'I think when you play every three days you cannot always get to the same performance or limits of the game. Today was really tough but it was first that Leicester played brilliant but second that we were rubbish.




'Our way of play we were really inconsistent and ill-disciplined in our principles and rules of the game. Then you get problems and it was only because of David De Gea that we get a clean sheet until half-time. We were lucky that we scored a goal. Great ball from Bruno, great run from Rashy.
Asked to elaborate on what was wrong in the first half, Ten Hag said: 'I don't have so much time with you but luckily we had a half-time where we could repair some stuff.
'Second half we were brilliant and we were how I want to see us playing. There was a lot of pleasure but it has to do with getting in the right positions and playing simple football. It was enjoyable to watch and we create so many chances with great goals.'