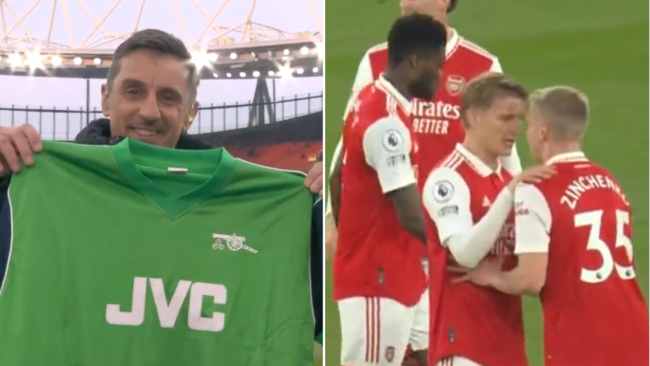 Gary Neville claims three of Arsenal's most senior players have let their younger teammates down in a poor sequence of results that has seen the club surrender the momentum in the title race.
After blowing two-goal leads against Liverpool and West Ham United, Mikel Arteta's team were expected to get back to winning ways against Southampton on Friday.




Alhough a late rally saw Arsenal salvage a draw having trailed 3-1 in the 88th minute, the concession of two more points means Man City are now favourites to retain their Premier League crown.
The North London side can wrestle back some initiative should they pull off a win at the Etihad on Wednesday, but Neville has implored Zinchenko, who called an in-game huddle after Theo Walcott put Southampton into a 2-0 lead, to show some leadership and composure.
'For Arsenal the more experienced players needed to step up and be composed,' Neville wrote on Twitter.
'In the last three games the more experienced ones haven't. The younger ones have looked more assured. Zinchenko, Jesus, Partey haven't been right. They have five days to sort themselves out. 'The huddle last night a bluff!'

Neville had called out Zinchenko for his public display of emotion after Walcott's goal against his former club.
The Sky Sports co-commentator said: 'Shock, absolute shock around this stadium, Zinchenko is forming a huddle, I have to say he would be better getting round his centre-back than forming a huddle, this is extremely strange, extremely strange,' Neville said.

'Odegaard is having a word saying what's going on. It's all a little odd. If you wanted signs of nerves, signs of wobble, signs of tension, you're seeing it all in front of your eyes.
'I talked about punching through midfield, Walcott takes Gabriel wide and cuts back inside, brilliant connection from Southampton, Walcott knows how to score that goal, how many times have we seen it in an Arsenal shirt? This stadium is stunned.
'Watching that first 20 minutes they were watching the invisibles.'