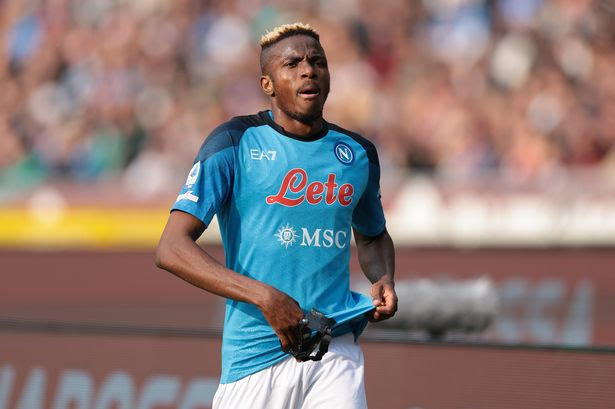 Victor Osimhen has suggested he intends to stay at Napoli by claiming there is 'no better place to be than here'.
The Nigerian star, who scored 31 goals in 39 matches last campaign, has attracted interest from Premier League teams like Chelsea, Manchester United and Liverpool.




Osimhen was one of the most prolific strikers in Europe last season, with his displays helping Italian giants Napoli win a long-awaited Serie A title.
The 24-year-old was expected to be signed by a top Premier League side after his breakout season but he now looks set to stay at Napoli, who are demanding more than £100million for his signature.

In an interview with SoccerNet, Osimhen said: 'I have never seen a city crazier about football like the way the Neapolitans are.
'They show all their players love. And wherever I go to, I am being respected. Kids love me, a lot of people admire me, they idolize me by putting on the replica of my mask.
'It shows the hard work I have given to them and what I mean to them. And for me, there's no better place to be than this place.
'I am so happy I made the right choice by coming here. And achieving this kind of greatness with the Neapolitans is something that I will wake up and always smile about.




'My children's children will come into this world and realize that their father has done something amazing.'
Reflecting on the league title win, Osimhen added: 'I'm so proud that I am actually a Scudetto winner, for me, it's a huge one.
'Whatsoever honour that comes after this, I will welcome it. And I am really working hard to make sure, and now I am addicted to trophies because now the Scudetto is my first trophy as a pro.
'Now I'm addicted, and I can't wait for the new season to come.'