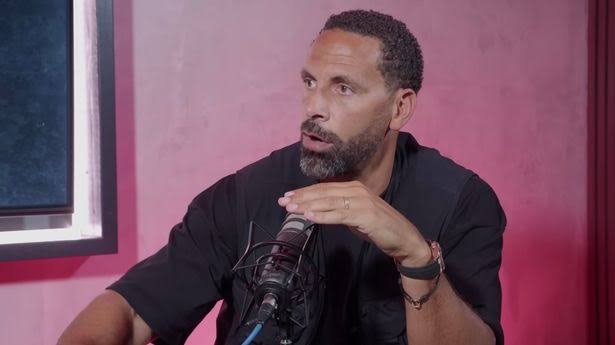 Rio Ferdinand has praised Manchester United's imminent capture of Mason Mount and believes he is a better signing than Arsenal's Kai Havertz, while he ridiculed suggestions the Gunners might sign Kylian Mbappe.
Mount is at Carrington undergoing a medical after the Red Devils agreed a £55m fee, plus another £5m in add-ons, to sign the midfielder from Chelsea.




With just a year left on his contract and United's first offer only coming in at £40m, there had been claims from some quarters that United overpaid but Ferdinand has hit back at those claims – and reignited his feud with Arsenal fans in the process.
Speaking on his FIVE YouTube show, Ferdinand said: 'I think Mason Mount is a very good signing. He'll be a valuable member of the squad. He's a good player, a top player, I love the way he plays football.

'Every manager he has had – as a guide – has been nothing but positive about him, has loved having him, has been integral to everything that they've done. He had injuries last season so he tailed off a little bit in terms of numbers but the two seasons he did well at Chelsea they won the Champions League in one of them.
'Goals, assists, chances created, runs from deep into the box, always a goal threat, impacts games, decisive player, has to play. When he gets back to that, last season I'd write off, more injuries than anything, loss of confidence maybe, but you get the Mason Mount over them couple of years at Chelsea, you get that in a red shirt at Manchester United, delightful.'
When it was suggested Arsenal's £65m deal for Havertz is better value, Ferdinand said: 'Kai Havertz didn't do the numbers that we're talking about! Kai Havertz has been bought based on last season, his numbers weren't top, they weren't great.
'If you've got the numbers Mason Mount had from the time Chelsea won the Champions League, and the season after, what would his valuation be? If you put it in that context, you can't say that Mount is going to go for below Havertz. You're smoking bro, no chance.




'The reason the fanbase isn't going crazy for Mason Mount is because they all know that the priority in this window is a number nine, that's the only reason. They all know he's a good player, they all know he's going to be a valuable member of this squad, and they're all delighted to get him through the door. But Man United's priority is a number nine.'
When it was suggested he wouldn't be saying that if Man United had signed a midfielder of Odegaard's quality, Ferdinand continued: 'No. Why? We've got Bruno Fernandes who creates more chances. A Moises Caicedo or a Martin Odegaard does not paper over the cracks of us having a number nine [Wout Weghorst] that didn't score a goal last season.
'Odegaard, if he signed for Man United – as great as a player as he was last season, I think he's tops – but the club's priority ain't that so we don't care about them man. You could bring Achraf Hakimi as right-back, I don't care! I'll be happy, but if he's coming in isolation I'm going, "Cheers, but I don't really need that now as much as I need my number nine!"'
Ferdinand also spoke about PSG star Mbappe when going through the striker options he would like to see at Old Trafford, though felt he was not 'gettable'.
When reports that Arsenal might try to sign the Frenchman were mentioned, Ferdinand laughed and said: 'You man can't get him either! Arsenal can't get him either. Don't even start thinking and dreaming. It's a good dream!'