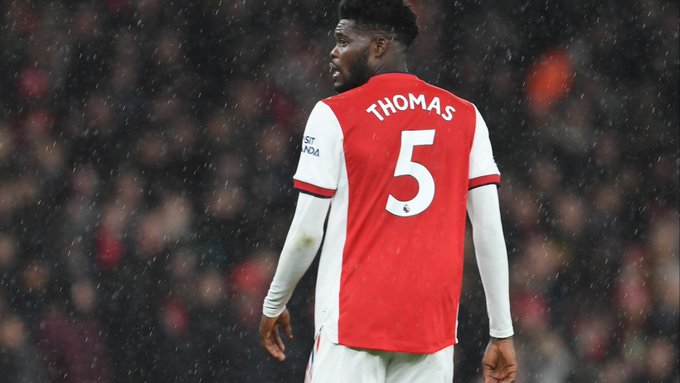 Arsenal midfielder Thomas Partey has aimed a dig at Manchester United after their defeat to Newcastle on Sunday.
Just recently, the Red Devils had a chance of challenging Arsenal and Manchester City in the Premier League title race but they have fallen out of contention after a couple of poor results.
United were hammered 7-0 at Anfield by Liverpool, drew at home to Southampton and then lost 2-0 against Newcastle at St James' Park.
They have now slid down to fifth place in the league table – though have played two matches less than fourth-placed Tottenham – and face a packed schedule of matches between now and the end of the campaign.
Meanwhile, Arsenal are on a seven-game winning streak in the Premier League and are eight points clear of Man City at the top of the table.
Partey was in a jovial mood after the team's latest win over Leeds and could not resist teasing United as he dined at a restaurant.
The midfielder was out with Ghanaian media personality Nana Aba, who uploaded a video of Partey as she tried to get him to send a message to Arsenal fans.
'Arsenal fans, I am with your super-duper midfielder, Thomas Partey,' she says in a clip uploaded to her social channels. 'Thomas, say hello to your fans.'
After some back-and-forth, Partey had a spoonful of dessert before looking to the camera and saying: 'You're welcome, join us in celebration of [Manchester] United's loss.'
Partey had a mischievous look on his face after delivering his put-down, while Nana Aba stared in silence with her mouth wide open after the taunt.
Partey had been a doubt for Arsenal's victory over Leeds after missing Ghana's game against Angola in the international break but started at the Emirates on Saturday.
Asked how the Gunners were dealing with the nerves of the title race, Mikel Arteta said: 'Just enjoy the moment that we are in.
Super Partey ???????? pic.twitter.com/O5kUwmjL1c

— nana aba (@thenanaaba) April 3, 2023
'We have nine games to go but [on Monday] we have a training session that is going to enable us to be better as a team, and if we go through the journey day by day, when the game comes we are in a state of mind and you are really looking forward to it.
'You have oxygen to grab instead of gasping, and we just want that energy and belief. We go to the next target and we go for it.'