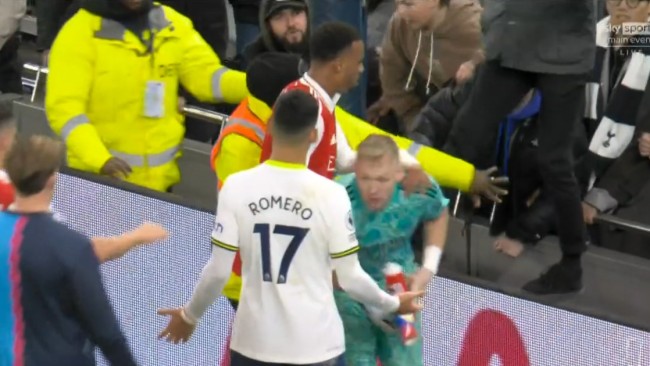 Arsenal goalkeeper Aaron Ramsale was kicked by a Tottenham fan moments after their 2-0 victory in the north London derby on Sunday.
The Gunners have moved eight points clear at the top of the Premier League table after a crucial win over their rivals at the Tottenham Hotspur Stadium.




Hugo Lloris' own goal gave Arsenal the lead in the 14th minute before Martin Odegaard's superb long-range strike doubled their advantage before the break.
Tottenham improved in the second half but they failed to find a breakthrough and Arsenal now have a commanding advantage in the Premier League title race.
Ramsdale, meanwhile, was celebrating Arsenal's win in front of the Spurs fans at the final whistle but as he went to collect his gloves behind the goal he was hit by a kick from one support who walked down to the front of the stand.
— 24. (@MP24MP42) January 15, 2023
When asked about the incident after the match, Ramsdale said: 'The Spurs fans gave me some throughout the game. I was giving some back.




'The people I did give it to greeted it in sportsmanlike terms but one fan tried to give me a little punch on the back.
'It is a shame as it is just a game of football at the end of the day. Both sets of players tried to bring me away but thankfully nothing too drastic happened. It is a sour taste but I'm sure we will enjoy it when we go back into the dressing room.'
Meanwhile, Tottenham central defender Eric Dier hit out at the Spurs fan responsible.
'I didn't see it but obviously it is unacceptable and it shouldn't have happened,' Dier said. 'There's nothing more I can say.'
Former Tottenham midfielder Jamie Redknapp told Sky Sports: 'It's unacceptable from the Spurs fan.
'Ramsdale had been getting stick all game and he reacts – that's part of football, you're going to get stick. But for a fan to do that and to try and kick a player on the pitch, it's unacceptable.




'I'm sure Spurs will act accordingly. He should not be allowed in football stadiums, that guy. It's out of order.'