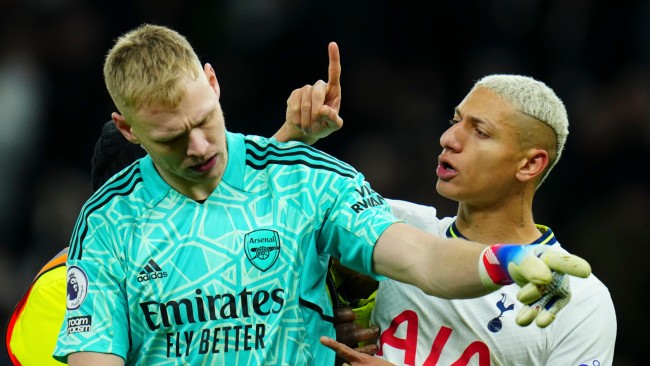 Richarlison has blasted Arsenal goalkeeper Aaron Ramsdale for celebrating in front of Tottenham fans and has issued an apology to Gabriel Martinelli after a spat with his Brazil teammate during the derby.
The Gunners moved eight points clear at the top of the Premier League table on Sunday with a 2-0 win in the north London derby as an own goal from Hugo Lloris plus Martin Odegaard's long-range strike sealed the victory for the Gunners.




Moments after the final whistle, Ramsdale was kicked by a Tottenham supporter after he had stuck out his tongue, kissed the Arsenal badge on his shirt and celebrated his side's win in front of the home fan behind the goal.
Richarlison was furious with Ramsdale goading the Tottenham fans in the closing moments of the game but the Brazilian star was also involved in a verbal altercation with Martinelli as he accused the Arsenal forward of diving.
Martinelli attempted to make up with Richarlison during the match as he went to fist bump his Brazil teammate, who was warming up on the touchline as a substitute, before taking a corner but the Spurs attacker ignored him.
Speaking about the run-in with Martinelli after the match, Richarlison told ESPN Brasil: 'It was a foul there that the referee ended up giving, we were close to the move, in my opinion it wasn't, I told him he was diving a lot, so I didn't shake his hand.




'I'm apologising to him. Like it or not, he's my teammate. It's part of the game, it's a derby, we were hot headed.
'With Gabriel [Magalhaes], we argued a little because I wanted to get on with the game.
'He ended up getting yellow, and I said to him, 'let's play, let's play'. I told him they were stopping play all the time, it's part of the game.'
Tottenham forward Richarlison also explained why he was shoving Ramsdale after the full-time whistle.
'What I really didn't like was their goalkeeper going to celebrate in front of our fans,' said Richarlison.
'It's kind of disrespectful to our fans, he has their fans, he has to go celebrate with their fans, not be cute with our fans.'