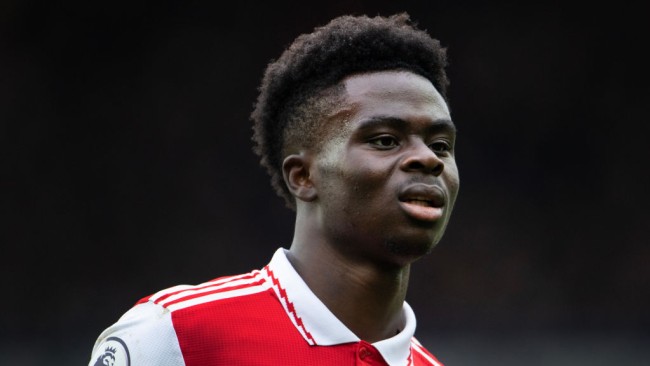 Bukayo Saka concedes Arsenal were 'really disappointed' after the 2-2 draw at Liverpool but says the title race is still 'in our hands' ahead of a 'massive' clash with Manchester City.
Arsenal raced into a two-goal lead at Anfield on Sunday afternoon thanks to Gabriel Martinelli's striker and Gabriel Jesus' header.




But the Gunners, who are bidding to win the Premier League for the first time since 2004, had to settle for only a point after Mohamed Salah and Roberto Firmino scored at the end of each half.
It could have been worse for Arsenal who were relieved to see Salah miss from the penalty spot and an inspired Aaron Ramsdale deny Darwin Nunez and Konate.
Arsenal have not won a league game at Anfield in more than 10 years and, despite Liverpool's second-half dominance, Saka says he was not 'satisfied' with the draw.
'The boys were really disappointed after the game because we all wanted to win,' Saka told Arsenal's official website. 'But we can't change that so we have to switch the focus to Sunday against West Ham.

'It's really important – we all know that – so we'll try and be ready for the game to give our best and get the three points.
'I'm not going to sit here and tell you I'm satisfied with a point [against Liverpool]. We wanted to go there and get all three so there's a bit of frustration inside me that we didn't do that.
'It's a stadium I've never won at, so I thought that it would be the best opportunity and timing to do it, but we couldn't do it which is a shame.'
The 2-2 draw leaves Arsenal six points ahead of Manchester City with eight games left.
Pep Guardiola's side, who have won four of the past five league titles, will leapfrog Arsenal if they win their outstanding game and beat the Gunners at home on April 26.
Saka said: 'As players, we really want to do this. We know that everything is in our hands and we just have to keep going game by game.
'If we win these last eight games and get some good results, the title can be ours, so we just have to stay focused. It's a long season and we have to be consistent all the way through, so that's what we'll try to do.




'I wouldn't say [the Man City game] is the final, but maybe the semi-final because it's massive, and so important as both teams are fighting at the top. It's really close so it'll be a massive game.'
'I've learnt a lot and I'm progressing in the right way, so I'm happy,' he added. 'I just hope at the end of the season those goals and assists will be very important and they'll mean a lot for the team.
'[Arteta] has taught me a lot, and I have to thank him for the way I'm developing because a lot of it is because of what he's doing for me.
'You have to be ready for everything that comes, and that's one thing that I have tried to do – be ready for every moment and try to take it.'