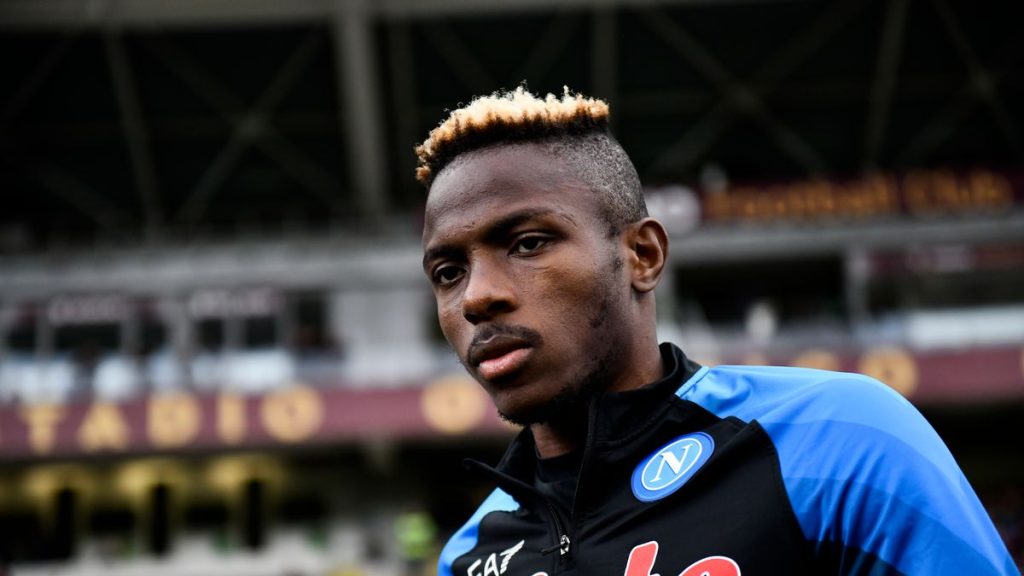 Victor Osimhen has revealed his admiration for Erling Haaland amid rumours linking the Nigerian international with a transfer move to the Premier League this summer.
Osimhen has scored 21 goals in 23 Serie A games this campaign and is the current top scorer in the Italian top division, with Lautaro Martinez (14) and Lookman (13) amongst the top three.




His form has seen him linked with a move to Manchester United, Arsenal, Newcastle and Chelsea, while PSG are also plotting a transfer for the forward.
Osimhen could be the most highly-sought after striker in the summer given his goal record thus far this campaign.
Comparisons have also been made with Erling Haaland, who has 30 to his name in England this season. In a recent interview, Osimhen spoke about the Norwegian star and the time he managed to have a conversation with the City striker.
"I play with Leo Ostigard at Napoli, who is very good friends with Haaland and plays for Norway with him," Osimhen told the Daily Mail.

"I am a fan of the Bundesliga so I've followed him for a while and every weekend he seems to score two, three, four goals. Ostigard spoke to me a lot about him, how hard he trained, then one day he said: 'If you want, I can bring you his shirt.' I said: 'Of course, bro.'
"So he spoke to Haaland, who also asked for my shirt, so we swapped them through Ostigard. He is one of the best of his generation so to be compared with him – and considered one of the best strikers in the world – only inspires me to do more.
"I can score four goals in a game, I can provide more assists, I can do many more things as I have the quality to execute them. I need to work even harder and then at the end of my career I can hopefully look back and say yes, I did some wonderful things.
"Everyone watches the EPL (Premier League), it is really competitive, but Serie A is also one of the strongest leagues. When Cristiano Ronaldo played there, he said the same thing. I am really happy to be there."

Osimhen also spoke about one of his inspirational figures in Didier Drogba. He praised the former Chelsea player for how he gave him the motivation to succeed in the game.
He added: "When I scored 10 goals and won the Golden Boot at the Under-17 World Cup in 2015, one of the Nigeria staff showed me a tweet from Drogba. It said 'Congratulations Victor. I wish you all the best for the future.'
"I was shocked. I never believed someone like Didier Drogba would tweet those words to a young aspiring striker. It gave me a whole new motivation to succeed.




"Trust me, he has been so helpful. One morning last year I woke up and checked my Instagram, and found messages to me from him, complimenting me, but saying I still had a long way to go. It's amazing to be in contact with him. I try to model my game on his and there are a lot of things I can take from his game and add to my own, so there is nothing better for a young player."