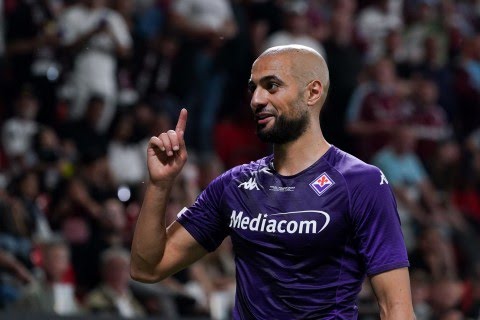 Sofyan Amrabat's brother Nordin has insisted the Fiorentina star will only join a top club this summer, with Manchester United among the teams reportedly interested.
Amrabat was one of Morocco's star performers at the World Cup in Qatar and attracted interest from a number of clubs in January, with both Chelsea and United attempting to sign him on loan.




The Fiorentina midfielder is expected to head to another team this summer, with reports claiming that Bayern Munich have joined the race for the upcoming transfer window.
Amrabat started his professional career at Utrecht in the Eredivsie and was managed by Erik ten Hag before he transferred to Feyenoord in 2017.

And the midfielder's brother, Nordin, claims United manager Ten Hag is 'charmed' by Amarabat and still has a 'good relationship' with his former player.
'He wants to go to the top, you are not going to trade Italy for the middle bracket of the Premier League,' Nordin told ESPN.
'At Barcelona, he is high on the list but you know Barca's financial situation. 'Of course you never know, it will be a strong competition when you see which names are going.
'But my brother now has the intention to play in the top, preferably in Spain or England, I think. 'Ten Hag is now looking for a striker, he wants that first. From there he will see what is possible.

'But I know that Ten Hag is charmed by my brother, he broke through under him and they have a good relationship, so who knows.'
When asked about his future before Fiorentina's defeat to West Ham in the Europa Conference League final, Amrabat said: 'Of course, the Premier League is a fantastic league, one of the strongest in the world.
'It would be nice to play there one day, but it's not that I want only to go to England, because Spain is nice, Serie A is a nice league.
'Football has changed a lot, it's more physical, you have more to be an athlete, the tempo and intensity is higher. Of course, in England the intensity is very high, so I think it could suit me.'