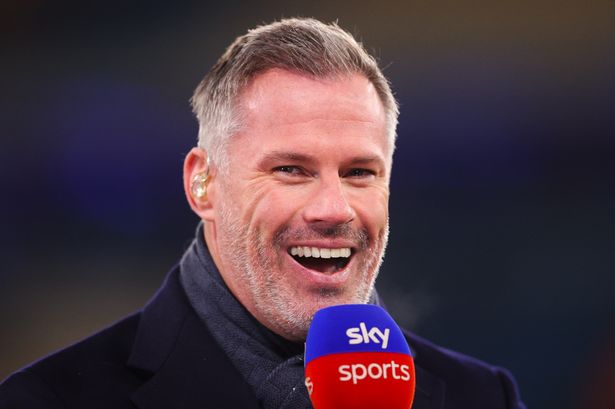 Jamie Carragher has criticised Marc Cucurella's role in Ben Chilwell's sending off against Real Madrid and feels the Spanish star misread the situation.
Chelsea need to overturn a 2-0 defeat in their Champions League quarter-final after Benzema and Marco Asensio scored in each half for them at the Bernabeu on Wednesday.




Chelsea's task was made hard in the 59th minute when Chilwell dragged back Rodrygo on the edge of the box when the Brazilian was through, with the referee brandishing a red card.
While Carragher was critical of Chilwell's defending, he felt the left-back received no help from Cucurella who pushed too high up and did not react to Rodrygo's spin in behind.
Speaking on CBS Sports afterwards, Carragher explained: 'When you play in Europe, it feels different from playing in the Premier League. At times it's slower – it almost feels like a charity game! Look at everyone, how slow everyone is.
'And this, for me, is European football: how Real Madrid change the pace of this game. Everyone stood still, standing in position, then Rodrygo gets his touch and before you know it 'Boom!' the pace in the game is quick.
'But look at the body position here of Rodrygo compared to Cucurella. He is already on his way, Cucurella still hasn't changed his body position to run back and on the far side, Ben Chilwell, when one of your centre-backs steps out the wing-back has to come in and fill that space.
'You can't do everything you'd like to do as a defender [against rapid players]. You'd like to be tight and aggressive, but you've also got to remember who you're playing against.
'Rodrygo is lightning-quick, so you can't go fully in. Cucurella doesn't go fully in, he gives himself a couple of yards – which is okay – but his problem is he doesn't react!
'When the ball goes and [Rodrygo] spins, Cucurella is still like this [stood still]. He hasn't changed the pace of the game and understood what is happening in that game.
'You've got be on your bike and go! And even if you go early, the player might then stop and get the ball to his feet – no problem, you've still go your back five in position.
'But the big thing is knowing the players that you're up against; the quality on the ball in midfield from Madrid – I think it was Valverde, but Modric or Kroos could have played that pass.'




Carragher was also critical of Chilwell, adding: 'For me, Cucurella is at fault but that [from Chilwell] is even more at fault. Don't pull someone back and give a red card away!
'The reason you pay a goalkeeper is to do his job and to get you out of trouble defensively – that's what he's there for! Let him do his job!
'You're then down to 10 men, he's now going to miss the second leg, and it still would have been difficult for Rodrygo to score from there.'
He added: 'Going down to 10 men could have completely taken them out of that tie. There's still a glimmer of hope, but defensively from Cucurella that was really poor and then Chilwell, the second part of it, his positional play and also getting the red card – let your goalkeeper do his job!'