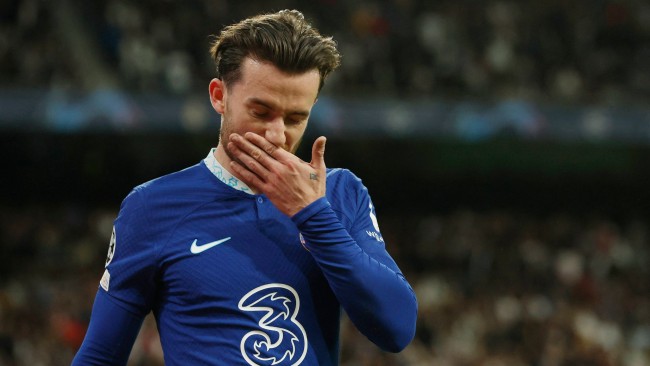 Ben Chilwell has apologised to his teammates and Chelsea supporters alike after the red card he received during the Champions League defeat against Real Madrid.
Already facing a huge task after Karim Benzema's first half goal, Chilwell plunged his team into more difficulty when he was sent off before the hour mark for hauling down Rodrygo and denying the Real star a clear goalscoring chance.




Reflecting on the incident, the left-back wrote on Twitter: 'Slept on it, and just want to apologise to my team mates and the fans.
'I made the decision in a split second last night and it was a mistake. I always give everything for the team and I will continue to do so. Thank you for the support.'
Real Madrid failed to take full advantage of their advantage and finished the contest with a two-goal lead to take to west London next week.
Chilwell will miss the match through the suspension, much to the frustration of interim manager Frank Lampard.

'The big thing was losing a player like Chilly, a big player and he would've been in the second leg,' said Lampard. 'A big disappointment.'
Speaking on CBS Sports afterwards, Jamie Carragher explained: 'When you play in Europe, it feels different from playing in the Premier League. At times it's slower – it almost feels like a charity game! Look at everyone, how slow everyone is.




'And this, for me, is European football: how Real Madrid change the pace of this game. Everyone stood still, standing in position, then Rodrygo gets his touch and before you know it 'Boom!' the pace in the game is quick.
'But look at the body position here of Rodrygo compared to Cucurella. He is already on his way, Cucurella still hasn't changed his body position to run back and on the far side, Ben Chilwell, when one of your centre-backs steps out the wing-back has to come in and fill that space.
'You can't do everything you'd like to do as a defender [against rapid players]. You'd like to be tight and aggressive, but you've also got to remember who you're playing against.
'Rodrygo is lightning-quick, so you can't go fully in. Cucurella doesn't go fully in, he gives himself a couple of yards – which is okay – but his problem is he doesn't react!
'When the ball goes and [Rodrygo] spins, Cucurella is still like this [stood still]. He hasn't changed the pace of the game and understood what is happening in that game.
'You've got be on your bike and go! And even if you go early, the player might then stop and get the ball to his feet – no problem, you've still go your back five in position.
'But the big thing is knowing the players that you're up against; the quality on the ball in midfield from Madrid – I think it was Valverde, but Modric or Kroos could have played that pass.'