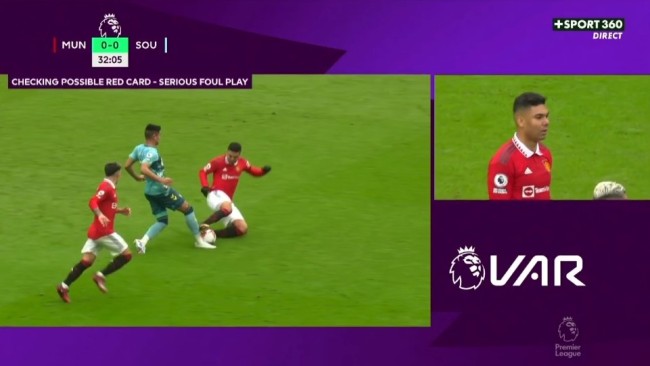 Manchester United midfielder Casemiro was sent off in the first half at Old Trafford for his challenge on Carlos Alcaraz.
Referee Anthony Taylor initially gave Casemiro a yellow card but after checking the incident on the VAR monitor, he upgraded it to a red card.




Casemiro has been sent off in the Premier League this campaign as he was dismissed in the 2-1 victory over Crystal Palace on February 4.
That means the 31-year-old, who has been vital in United's midfield after his arrival from Real Madrid, will be given a three-game suspension and will sit out another match because of his previous red card.
Casemiro will miss United's FA Cup tie at home to Fulham on March 19.
The Brazil international will also be unavailable for the Red Devils' Premier League games against Newcastle United, Brentford and Everton.




MANCHESTER UNITED GAMES CASEMIRO WILL MISS
Fulham (H) (Mar 19)
Newcastle United (A) (Apr 2)
Brentford (H) (Apr 5)
Everton (H) (Apr 8)
Casemiro was distraught with his red card against Southampton. He needed to be consoled by Antony before making his way down the tunnel.
United defender Phil Jones explained Casemiro's importance to the team in a recent interview with Sky Sports. He said, "It's the way he sets up those attacks. He has a calming effect on the lads. On the pitch you can see everyone feeds off that.




"He is very infectious and the way he leads and the way he plays his football you know. Everybody sees that and feeds off him. You can see how successful they have been when he's been in the team."
Ten Hag has previously said, "Casemiro has not surprised me – absolutely not. I knew what a magnificent player he was. Just look at his profile, all the cups he's won, that's not a coincidence… he has won five Champions Leagues, that's not a coincidence."