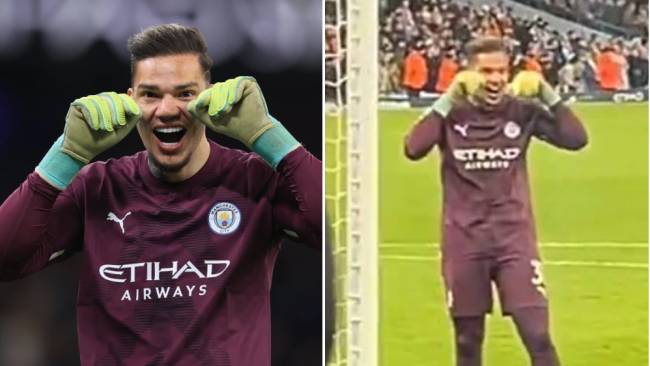 Man City ran out comfortable winners over their title rivals as Kevin De Bruyne scored a brace, while John Stones and Haaland were also on target.




The win puts Pep Guardiola's side two points behind Premier League leaders Arsenal, although City, who have not lost in their last 17 games in all competitions, still have two matches in hand.
Meanwhile, Arsenal appear resigned to settling only for second place, which would be their highest finish in the Premier League since 2016.
Stop Crying Your Heart Out???? pic.twitter.com/FCKbaIDF9p

— Noisy Neighbors (@NoisyPod) April 26, 2023
But Ederson took the chance to mock Arsenal's fans as he turned to the away end at the Etihad Stadium and pretended to cry in the closing stages of the match.
Speaking after Manchester City's win, Guardiola claimed for the first time that his team are now in control of the the Premier League title race.

'It's in our hands. I'd love to have six points from these two games [in hand], but we have to win them,' said Guardiola.
'Until today, I prefer the position in the Premier League from Arsenal but now it is in our destiny.

'I have the feeling the next three games will dictate a lot. We have Fulham, and what Marco Silva has done this season coming from the Championship has been amazing.
'After, we have two games at home. I don't want to anticipate because it's not healthy but at home this season we feel comfortable with the crowd. I think the next three games will be really important but of course the most important thing is our destiny is in our hands.'
Click here to join our WhatsApp Community or send a message to +2348023894548