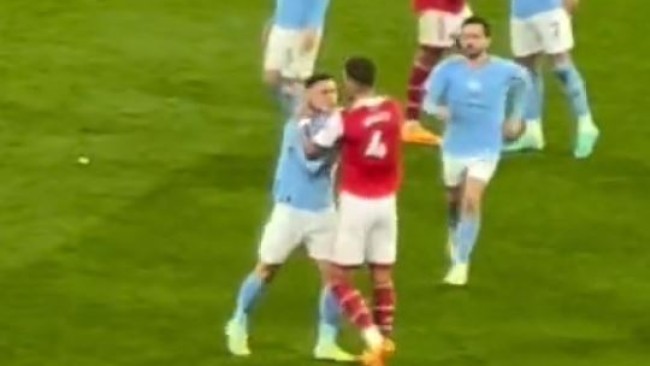 Arsenal defender Ben White sparked a bust-up with Phil Foden after their 4-1 defeat to Manchester City on Wednesday.
City ran out comfortable winners at the Etihad with a brace from Kevin De Bruyne plus goals from John Stones and Erling Haaland.




The victory has moved Man City two points behind Arsenal and the reigning Premier League champions still have two outstanding matches over Mikel Arteta's side.
Tempers flared during the match as Jack Grealish and Thomas Partey clashed in the second half.
It's always the sore losers and fake tough guys that want to try and "fight" after getting embarrassed in the game.

Got dunked on and picks on the smallest guy on the field, what a twat

Why don't you go try that with Haaland or Dias? pic.twitter.com/qJaUHCZVgI

— SHEIKH ???? (@SheikhMCI) April 26, 2023
But even after the game, two England teammates needed to be separated as White and Foden were involved in a heated argument.
White initially approached Foden and grabbed the City player by the collar. Foden reacted furiously to the Arsenal defender, grabbing his shirt and then pushing him away.

Bernardo Silva, Rodri, Kyle Walker and Erling Haaland then stepped in to separate the two players and diffuse the situation.
Speaking after the game, Arteta conceded that Manchester City were deserved winners against Arsenal.

'I think it's clear the better team won the game,' said the Arsenal manager. 'They were probably at their best, especially in the first half and we weren't at our level.
'The gap then becomes too big. In the first 30 minutes in terms of the basics you have to do against an exceptional team in terms of competing, in terms of winning duels, in terms of understanding what the game required we didn't do it. We got punished and we could have been punished even more.'