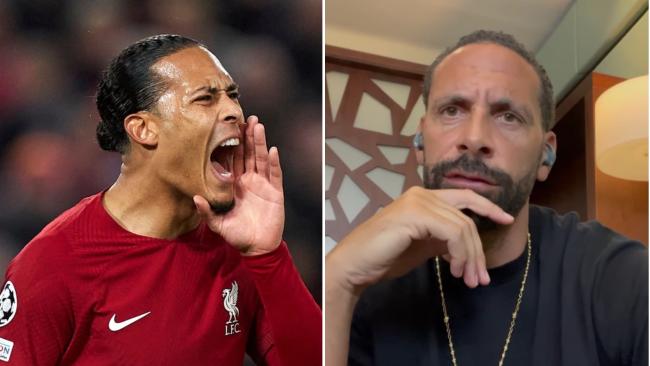 Rio Ferdinand has waded into the debate over whether Virgil van Dijk is a better defender than Nemanja Vidic and claims his former Man United team-mate's shortcomings have been turned into 'a bit of a myth'.
Jamie Carragher started a lively conversation on Twitter on Monday as he defended Van Dijk after an underwhelming display against Arsenal, claiming the Dutchman is still 'miles better' than Vidic.




Van Dijk was the Ballon d'Or runner-up back in 2019 but his form has dropped significantly after a knee injury at the start of last campaign.
He once again struggled in the 2-2 draw against Arsenal, clearing the ball straight to Gabriel Martinelli for the opening goal before leaving Gabriel Jesus unmarked for the second.
Carragher is adamant Van Dijk is only having an off season just like Vidic and indeed Ferdinand had in their careers and says he has been the best player in the Premier League alongside Kevin De Bruyne over the last four years.
He also brought up Vidic's struggles against Fernando Torres to explain his point, though Ferdinand has slammed that particular comparison and says the Serb's struggles against the Spaniard have been overstated, while he has been stunned by Van Dijk's drop-off this campaign.

'Liverpool's defending… I don't know what I'm seeing at the moment! I can't get my head around it. Van Dijk has been the best defender in the world arguably for the last couple of years. He looks a shadow of himself,' said Ferdinand on his Vibe with FIVE YouTube show.
'He's lost form, obviously. He said that in a [social media] post after the game that personally and collectively [Liverpool] have lost form, not playing the way they normally would. And that's fine, that's fair.

'Him, Trent [Alexander-Arnold] they've just got to get back to basics. The way you get out of a rut like that is to just get back to basics.
'I saw Jamie Carragher tweet something about Van Dijk being better than Vidic. I don't know why, or why that was said or whatever.
'He mentioned [Fernando] Torres – I think Torres scored three goals in 15 games against Vidic. I think it's a bit of a myth. I think he had a couple of dodgy moments in those games, and he got sent off a couple of times, but that's kind of been amplified into saying he got tortured every time we played against Torres, which wasn't the case.
'Three goals in 15 games. [Marcus] Rashford I think has got six in 13 games against Liverpool, does that mean he's tortured Van Dijk and Van Dijk can't handle him? Because that's what you're saying about [Vidic], if we're using the same methodology that we're using for Vidic with the way Rashford is scoring goals against Liverpool, just under one every two games he's scoring against Liverpool. I don't know.
'I don't know why Vidic's name was thrown in there. People are hammering Virgil van Dijk about his performances this season, he's had a bit of an off season – which he has, and I think he'd admit that.




'It's mad. He's prime time as well. The problem is he had a big injury, and that injury was one where people said, "Can he come back from that injury?" Next season is going to be the telling one. He's had this season to get himself fit, to get himself up to speed.'