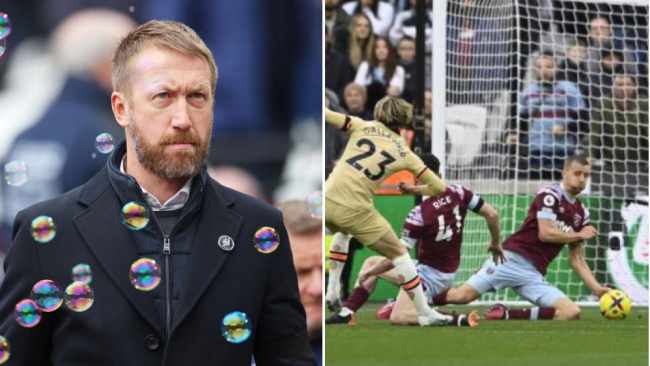 Rio Ferdinand and Joe Cole have questioned Graham Potter's handling of the handball incident in Chelsea's draw at West Ham, accusing the coach of showing a lack of experience.
With the score level at 1-1 in the 89th minute, the Blues were denied what appeared to be a very clear penalty when Tomas Soucek blocked Gallagher's shot with his arm.




Speaking to BT Sport after the game, Potter said  it 'looked it' when asked if it was a handball but refused to dwell much on it, adding: 'These are the little things you need to go in your favour and at the moment they are not so that's life there is nothing to complain about.'
While denied a penalty, Chelsea laboured in the second-half and have now dropped 14 points in their last seven league games.




With pressure growing on Potter after the club's £300m spending spree in January, Ferdinand was adamant the Chelsea coach should have made the handball incident 'the story'' to deflect some of the focus from the poor display.
The former Manchester United defender added Guardiola and Jurgen Klopp would have handled the situation differently, insisting Jose Mourinho would have made it the back page headlines on Sunday.
Ferdinand told BT Sport: 'It comes with experience, if you look at a Pep Guardiola or Klopp or Mourinho in years gone by at Chelsea, Mourinho would have been out there in the presser tomorrow and that would've been the story, the back page would've been Mourinho slams VAR and takes the focus off what happens on the pitch.
'There were some bits that you could improve on with Chelsea but that would not be the focus, it probably will be now… the influx of players, the money spent but you can negate that by controlling the narrative in that presser there'.




Cole was also left worried by the lack of experience shown by Potter, saying there should have been someone in the Chelsea dugout causing 'uproar'.
'If he had someone in his staff who has been at that level and managed at that level… you need to cause a bit of an uproar because it does two things,' he explained.
'It deflects from the bad elements of your performance but it puts it on VAR. It cost Chelsea a chance of winning the game there through no fault of your own.
'You can dissect the performance of your team on Monday morning but if I was advising him now I'd say come out and make a thing of it.

'Make the Chelsea fans come out of here thinking you're hard done by, instead of feeling why didn't we beat West Ham. That's a little bit of inexperience.'