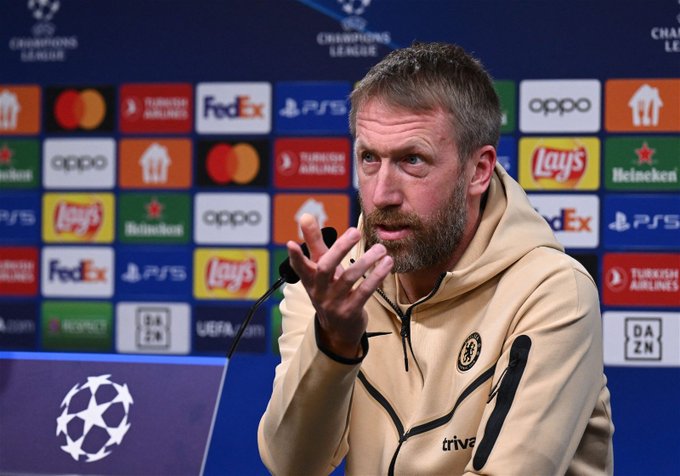 Graham Potter says it is hypocritical for people to demand he gets furious with referees, after comments made by former Chelsea and Manchester United players.
The Chelsea boss was criticised for not making more of the handball incident in the Blues' 1-1 draw with West Ham last Saturday.




Rio Ferdinand told BT Sport: '[Jose] Mourinho in years gone by at Chelsea would have been out there in the presser tomorrow and that would've been the story, the back page would've been Mourinho slams VAR and takes the focus off what happens on the pitch.'
While Chelsea icon Joe Cole agreed, adding: 'You need to cause a bit of an uproar because it deflects from the bad elements of your performance but it puts it on VAR.'




Potter is of course under big pressure at the club especially after their lavish spending spree in January and many have questioned whether the ex-Brighton manager has the mentality to manage at the highest level.
But he was defiant in his pre-match press conference on Tuesday, ahead of the Champions League game at Borussia Dortmund, when asked about the criticism over his temperament.
'I'm careful not to get into discussion through the media,' he said.
'Of course I get angry, I'm a human being, it's just that I choose to conduct myself in the way I believe I should.




'The same media are talking about me being more angry and then running stories about referees at grassroots level. It's an emotional thing but I have a responsibility to Chelsea, the game and myself to act in a certain way for me.
'If you think you can start a coaching career in the ninth tier of English football and get to this point now, with Chelsea and the Champions League, without being angry or getting nice, I would suggest you don't know anything about anything.'

Meanwhile, Borussia Dortmund head coach Edin Terzic is prepared for any surprises new-look Chelsea might throw at them against the Blues.
Chelsea signed more than half-a-dozen players in January, including the record signing Enzo Fernandez for £106m and bringing in Joao Felix on loan.
'It is not easy to analyse them,' said Terzic, who will be without injured forward Youssoufa Moukoko. 'After the Champions League draw we watched their games but then in the transfer window there was so much movement from them.
'They sold key players, brought in other key players. Then we saw the Champions League list but then there was the transfer of Joao Felix, for example.
'So you don't know how they will play. In defence they played with four but before also with three in the back. We will prepare for everything.'