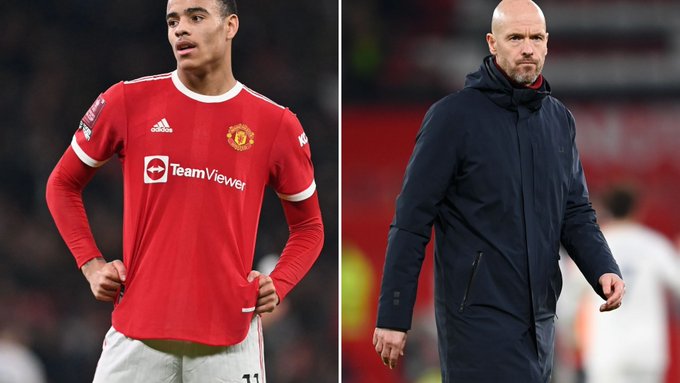 Mason Greenwood has been in contact with Manchester United boss Erik ten Hag for the first time since the charges against him were dropped in February, according to reports.
The 21-year-old was due to stand trial in November but Greater Manchester Police announced last week that the Crown Prosecution Service had dropped charges of rape, assault and engaging in coercive behaviour.




The CPS said a "combination of the withdrawal of key witnesses and new material that came to light meant there was no longer a realistic prospect of conviction".
Though, Greenwood remains unavailable for selection by United, who are conducting an internal investigation into his conduct, with no timescale placed on how long it could be.




And Ten Hag has refused to comment on the England star last week, but The Sun claims they held a phone call some days after the charges were dropped.
The reported phone call was the first time the manager had spoken to Greenwood since he took over as Red Devils head coach last summer.
All contact between the club and the player took place through a third party after his arrest in January 2022.
A source told The Sun: "Mason has spent a long time with very little – if any – contact from the club. As and when they were in touch, it was never direct and always through a third party. So for the manager to call him was a big step for him and one he really appreciated.




"The manager enquired how he was feeling physically and mentally and said he was pleased the charges had been dropped. He thought it was the right thing to do to get in touch with Mason. But he was clear it will be the club rather than him which will decide if Mason can play for United again."
The source also claims Greenwood would like to "get his career back on track", having not played competitive match in over one year.
Regarding the phone call with Ten Hag, the source added: "Mason's spirits were lifted by it. He has been at United since he was six and just wants to get back to playing football for them.
"He is happiest with a ball at his feet and wants to get his career back on track. But he knows the club has a massive decision to make."

Greenwood remains under contract at United until the summer of 2025. He has scored 35 goals in 129 games for United having made his debut in the Champions League in March 2019, and won a single England cap in 2020.