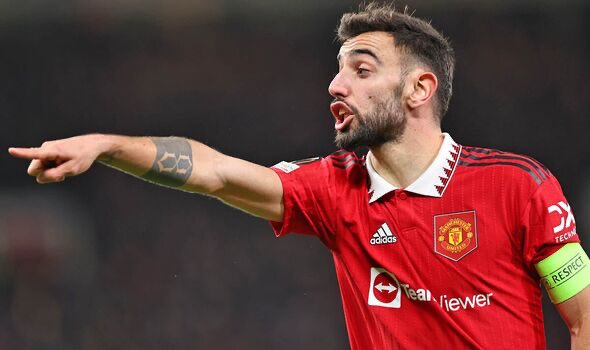 Manchester United meet Sevilla in the Europa League for the second time in three years and they will be hoping to avoid the issue that marred their last game.
The last time these two teams met, Sevilla ran out 2-1 winners in a game that saw Bruno Fernandes and Victor Lindelof engage in a heated exchange of words on the pitch in full view of everyone.




Erik ten Hag knows his players must avoid a similar bust-ups to stand any chance of progressing to the next stage.
Back then, the Red Devils were under the reign of Ole Gunnar Solskjaer and things got off to a good start when Fernandes stepped up to convert a penalty in the ninth minute.
Unfortunately for them, United opening the scoring seemed to spark Sevilla into life. The LaLiga side upped the pressure and forced their way back into the tie.
Former Liverpool star Suso started the comeback before Luuk de Jong netted a late winner to seal the fate of Solskjaer's side.
It was in the aftermath of De Jong's goal when tempers flared, as Fernandes laid into Lindelof and blamed the defender for his part to play in failing to prevent the goal.
Sevilla held on for the victory, but much of the discourse was centred around Fernandes' bust-up with Lindelof. But, the United star did his best to play down the issue come full-time, having been inundated with questions over the incident.
The Portugal international claimed that it was 'normal' for such disagreements to occur.
"It is normal when you concede a goal, everyone was mad," the ex-Sporting star claimed. "It was not about me or Victor, what happened is nothing. It was normal, it is about looking out for each other. It will happen in a lot more teams too.
"This thing will happen many more times in other teams. The most important thing now is seeing the mistakes we made and look forward to improving in the next games."
Three years down the line and both players who were involved remain United players, and it is likely that only one of them features in Fernandes.
The 28-year-old is still a key figure at Manchester United play under Ten Hag, but the same cannot be said for Lindelof.