Chelsea defender Wesley Fofana has suffered a setback to his hopes of returning to the first team after limping off with a knee injury during a friendly game against Brentford on Tuesday.
The centre-back sustained the issue while playing in a match staged behind closed doors as part of Chelsea's build-up to the campaign resuming.




They won the game 5-1 but the win was overshadowed by what happened to Fofana and the London club will now have to assess the extent of a possible injury.
The Blues manager Graham Potter is expected to address the issue when he holds a pre-match press conference on Friday ahead of the Bournemouth fixture.
The 22-year-old defender returned to full training for Chelsea this month after recovering from a knee injury sustained in the month of October.
The Frenchman was involved in Chelsea's training camp in Abu Dhabi while the World Cup was still ongoing and revealed recently he was ready to play for the senior side again.




He missed out on a place in Didier Deschamps' France World Cup squad after suffering an injury during Chelsea's Champions League win over AC Milan two months ago. He also opened the scoring in that game.
Meanwhile, Fofana has now responded to reports of a possible knew injury. He said: Wesley Fofana: "Nothing bad champion… in not even one month we're back to break everything ??"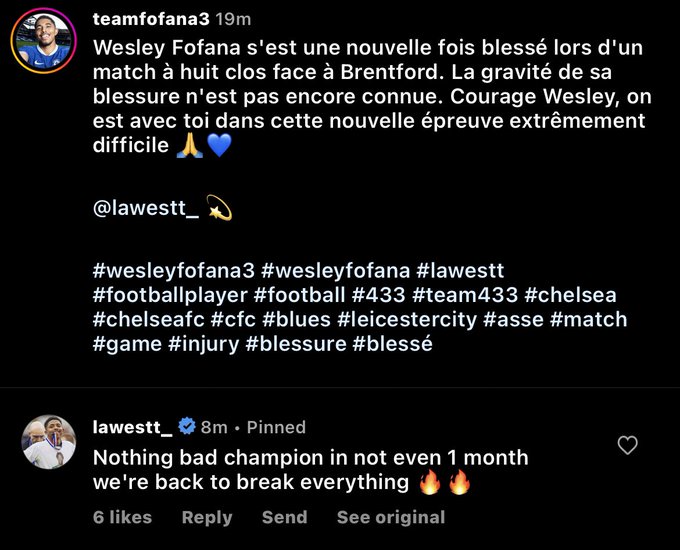 News of a potential injury would be a huge blow to both Chelsea and Fofana, who has played just four matches since joining from Leicester City for £69.5m in August.




Thiago Silva resumed first-team training for Chelsea on December 18 alongside England trio Raheem Sterling, Mason Mount and Gallagher.
Chelsea resume their season against Bournemouth in the Premier League on December 27.