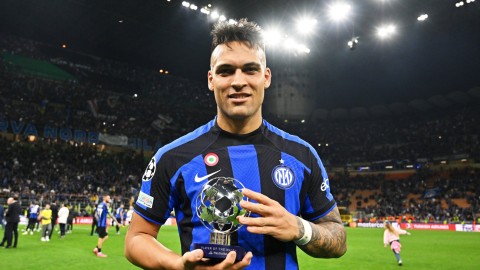 Inter Milan vice-president Javier Zanetti says the club has no plans to sell Chelsea transfer target Lautaro Martinez.
The Argentine forward scored in the second half to seal Inter's 1-0 victory over AC Milan on Tuesday, which has booked their place in the UEFA Champions League final where they will play either Man City or Real Madrid.




Meanwhile, it's believed that Chelsea's incoming manager Mauricio Pochettino has identified Martinez as the striker he wants the club to sign.
Martinez still has three years left on his current contract with Inter but reports have claimed that the club would consider selling the 25-year-old in order to balance their finances.

But Zanetti is adamant that Inter Milan want to keep Martinez beyond the end of the campaign.
Speaking after Inter's 1-0 win over AC Milan on Tuesday, Zanetti said of Martinez: 'Delighted for him, he's making an extraordinary journey.
'He grows every year, he's fundamental and an important reference in the team.'
When asked if the Italian club will keep Martinez, Zanetti said: 'Yes, for now we are holding on to him. Let's enjoy it.




'He's very happy here, he has found his home, his family, and I hope it lasts as long as possible.'