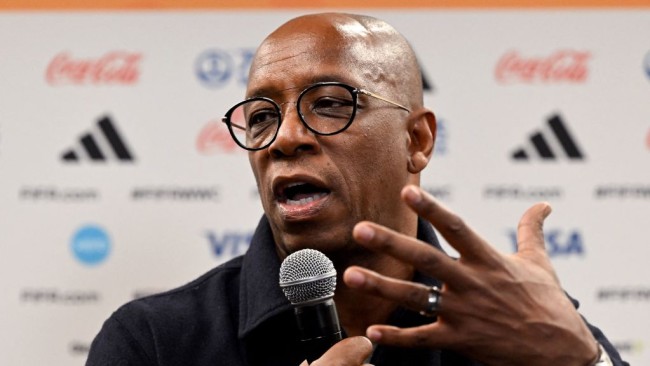 Ian Wright says he is 'so proud' of Arsenal despite their recent collapse in the title race and believes his former club could face competition from five other rivals as they look to go one better and win Premier League next season.
Arsenal's hopes of winning a first league title since 2004 appear all but over after Sunday's 3-0 home defeat to Brighton.




While they can still mathematically win the Premier League, Manchester City need only three points from their last three matches to clinch a fifth title in six years.
Arsenal sat at the top for more than 90 per cent of the season but form has cost them at the crucial time, with Mikel Arteta's side dropping points in five of their last seven games.




Despite the disappointment of falling short in the title race, Wright is 'so proud' of Arsenal and says they deserve credit for challenging the dominant force in English football, Manchester City.
The former striker hopes Arsenal can go even one better and win the Premier League next season but concedes several teams look to be well-placed to mount title challenges in 2023-24.
Wright believes Chelsea will soar up the table under Mauricio Pochettino and says Man United, Liverpool and Newcastle United could all emerge as challengers to this season's top two.
'Obviously the initial reaction is one of massive disappointment, but I am so proud of this Arsenal team,' Wright said on his podcast.

'I haven't got a problem with outsiders saying we bottled it, because they know we haven't. You only have to look at the facts – the age of the team, the inexperience, the injuries.
'Arsenal flew close to the sun this season and they deserved to be flying at that height. But Manchester City are sensational.

'Looking ahead, the slight worry I have for Arsenal is that Mauricio Pochettino is heading to Chelsea so they're coming. They have an excellent squad.
'I don't know what's going to happen with Manchester United but you know they aren't going to sleep for too long.
'Liverpool are going to be making the signings they need to get them back to where they want to be.
'You look at those sides plus Man City and Arsenal – and even Newcastle – they're all coming now and that's exciting.
'If Man City can win five titles in six years and they keep winning, it's tough because teams know they need at least 90 points to compete.
'Liverpool showed us it can be done but look at what it did to them. What we all need to be worried about is a situation where Man City just win it at a canter because while Liverpool and now Arsenal have given it a good go, they're still doing it City.
'People mock the French and German leagues but the Premier League, if we're not careful, is on that path.
'The only thing stopping that is teams like Liverpool and Arsenal standing up, that's why we need Chelsea, Liverpool and Man United back and Newcastle coming up too.'