Frank Lampard says Chelsea have a number of transfer plans to work on depending on how the market is affected by the coronavirus crisis.
Lampard is currently on lockdown with the rest of the UK due to coronavirus pandemic, with uncertainty swirling about if this summer window will open as planned.




But the former Derby boss is confident Chelsea are moving in the right direction, but sent a message to the board that important signings needed to be made.
Tottenham rule out Harry Kane sale to Man Utd
Lionel Messi embarrassed Man Utd in Champions League final – Rio Ferdinand
'I don't want to jump the gun, because what Liverpool and Manchester City have done in the last two or three seasons has been very clear,' Lampard told Sky Sports.




'I'd be a bit of a fool to make a claim we can bridge that gap very quickly. There's been a lot of work at those clubs on recruitment of top players, on coaches and working and improving themselves.
'We can't copy it, but we have to try and do it our way and look at it.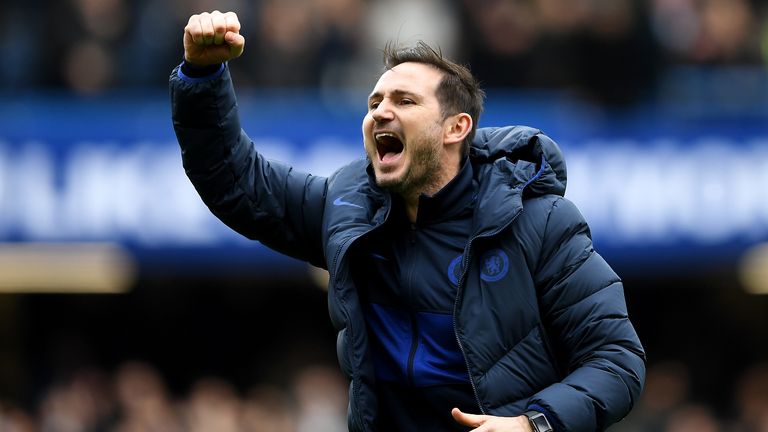 'We have good young players and experienced players that have helped them this year, but we know there are little areas within the squad that we will look to recruit [for] going forward.
'With this period and what's going on in the world, it's made it very difficult to plan on that front.




'We have to have different versions of plans. But going into this break, I certainly felt we were moving in the right direction.
'With continued progress, work on the day-to-day, work on attitude and the club and myself, with potentially bringing in some players in key areas that we think can help us to try and bridge that gap to Liverpool and City, then yeah, I've got a strong belief we can.'
Much to Lampard's frustration, Chelsea couldn't sign any player during the January transfer window.
But he was anticipating a huge summer of exits and arrivals and has already secured his first summer signing for the club.
Ajax attacker Hakim Ziyech will become a Chelsea player at the end of the campaign, but it is still unclear when that might be.