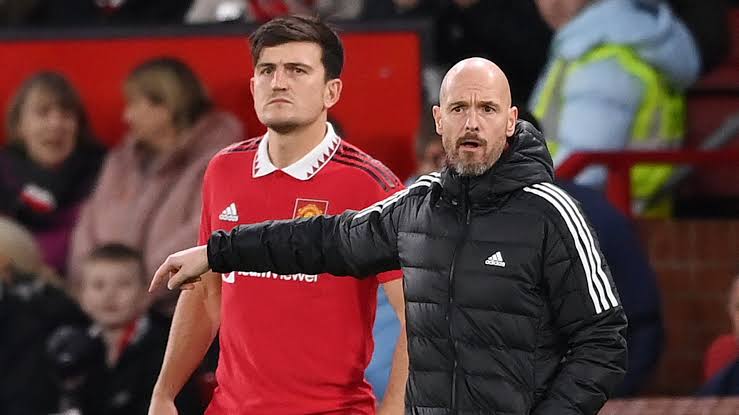 Harry Maguire has been backed to "make life uncomfortable" for Erik ten Hag as he aims for a route back into the Manchester United team.
The England international finds himself in a tricky position at the club. Maguire has fallen down the pecking order at Old Trafford since Ten Hag's arrival from Ajax.
He found himself behind Lisandro Martinez and Varane in the pecking order last campaign, while his chances of regular football do not look any better this season.
Maguire has seen the club captaincy stripped from him and has been replaced by Bruno Fernandes. A number of Premier League teams have expressed their interest in rescuing the former Leicester player from his current mire.
Tottenham were linked this summer, while West Ham have seen a £20m offer rejected for him. Maguire though is keen to stay with Man United and fight for a place in the side.
Former England player Stuart Pearce remains a fan of the centre-back and has tipped him to force his way back into the team under Ten Hag.
Speaking with Sportsbeat, he said: "If I was a Premier League manager, I would be doing everything I can to bring Harry Maguire to my football club.
"For what he stands for as a player, his age, experience, he's comfortable on the ball, and capable of goals in the opposite box – I can't see any negatives. For me, I would do my level best to get him out of United if I was a manager at another team. It tells you a lot when Ten Hag isn't saying, 'I want Harry Maguire moved on'. That tells you his attitude in training is spot on.
"He sees his worth – he doesn't see him as a first-team starter but whenever you need a game seeing out, he puts Maguire in the heart of defence to make sure they keep the ball out the net.
"When he comes off the bench in the 85th minute, he gets straight into the game. He does the job the manager wants him to do and that says a lot about his character.
"Knowing Harry, if he stays at United, he'll do everything he can to make life uncomfortable for Ten Hag with his performances to get back into the team."