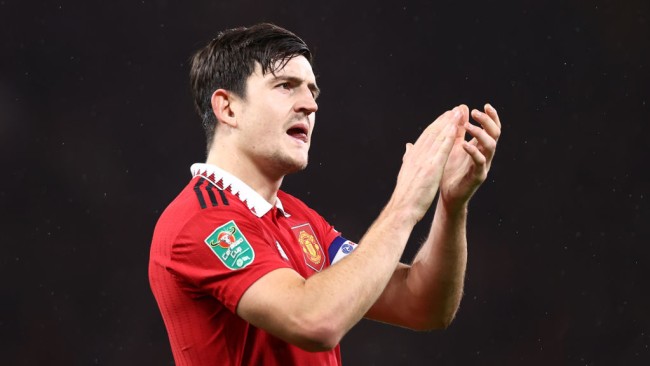 Former Manchester United defender Rio Ferdinand has said he would be 'gobsmacked' if Harry Maguire wasn't searching for a new club.




Lisandro Martinez and Varane have formed a good partnership in United's defence this campaign with Maguire starting just seven games all competitions.
With Erik ten Hag rotating his team after the World Cup and amid their fixture schedule, the England star has been back in the starting lineup to captain United in the recent wins over Bournemouth and Charlton.
But it appears Maguire remains down the pecking order, with Luke Shaw preferred at centre-half in wins against Nottingham, Wolves and Everton.




With Martinez and Varane likely to resume their partnership in the derby against Man City on Saturday, Ferdinand believes the defender will be quietly looking to find a new club soon.
He told iNews: 'If I came back from a tournament and done well, hit a bit of form and confidence again, come back to my club where I'm captain, and the manager has said to me 'Patrice Evra is playing centre-half – our only other first-choice centre-half isn't fit but now we're playing Patrice there,' and I'm sitting here fit, I'd have to be asking questions and saying "this ain't happening, you obviously don't fancy me, I need to look for a new club, thank you".
'That isn't me saying Harry is this or that. That's just looking at the situation cold and saying that's the way it has to play out.




'If Harry Maguire and his agent aren't looking for a new club I'd be absolutely gobsmacked. I don't see Harry Maguire at this stage of his career saying "I'm happy to be a squad player".
'I can't see Harry Maguire who starts for England and is Man United captain saying he's happy to be sitting on the bench. I wouldn't be able to understand that.'

However, Maguire has vowed to keep fighting for his place despite the speculation over his future.
'It felt good, I played last week as well against Bournemouth,' Maguire told Sky Sports after United's 3-0 win over Charlton.
'I was unfortunate in terms of when I come back from the World Cup, I had a bad illness, to be honest, and it knocked me back for one or two weeks. I feel good now.
'We have a lot of good centre halves at this club, there's a lot of competition for places and I'll keep fighting.'