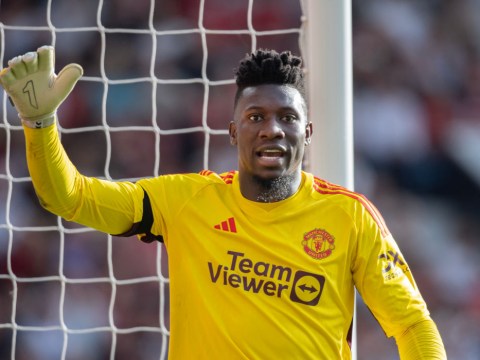 Manchester United's coaches have seen one major concern with summer signing Andre Onana after a number of mistakes in his first 11 appearances for his new club.
The 27-year-old joined in the summer from Inter Milan after United agreed to pay £47.2m, having dispensed with club legend David de Gea.
Onana was recruited on the strength of his ability with the ball at his feet and it was hoped that he would play a key role in helping Erik ten Hag's plan to turn United into a team capable of playing from the back and improving in transition.
While there has been limited evidence of Onana helping United in that respect, more alarming has been the number of basic goalkeeping blunders he has committed already.
Last week's weak attempt to keep out Mathias Jensen's shot would have resulted in another defeat, were it not for McTominay's late heroics, and while Ten Hag has no plans to drop a player he was so insistent on signing, his form is of big concern.
Reports last week claimed opposition coaches spotted a weakness in Onana's game that is being exploited in that he stays too close to his line when preparing to face shots.
According to ESPN, United's own backroom team were alarmed by the way in which Onana reacted to allowing Leroy Sane's shot squirm through his grasp and into the net in the recent Champions League defeat against Bayern Munich.
It was noted how it appeared to take Onana a huge amount of time to recover from the mistake, with it taking over 30 minutes before he returned to issuing vocal support to his defenders.
Ten Hag's support are working hard to help iron out the mental and technical flaws in Onana's game, while he is determined to make a success of his United career and is unwilling to miss a month of the season at next year's Africa Cup of Nations.
Despite his intentions, Rio Ferdinand says Onana needs to 'buck up his ideas' if he is to retain his place ahead of Altay Bayındir.
'At the moment, there are nerves that are in there, because of the mistakes. A lot of people are asking if he can recover. I was there when De Gea came,' said Ferdinand this week. 'He was obviously younger but he didn't start well, you know. I think in his first 10 games or so, the numbers are similar to Onana.
'If you were to speak to Onana himself, I think he would say, 'This is not the start I wanted, this is no way near the level I am used to performing at and this is not the standard required at Man Utd so I need to buck up my ideas'.'