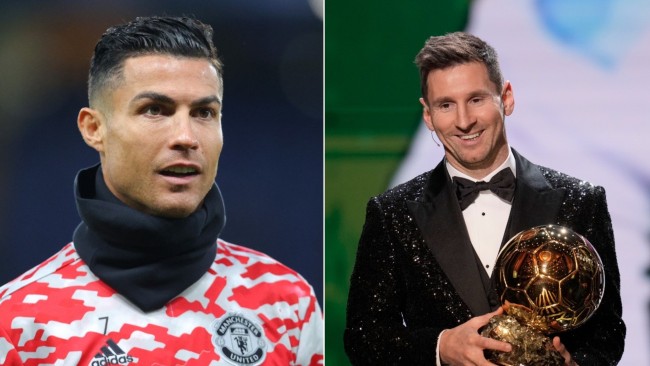 Al Nassr forward Cristiano Ronaldo has named the one player that he ranks alongside himself and Lionel Messi in the GOAT debate.
Ronaldo and Messi are considered as two of the greatest players of all time, with some believing they are indeed the best in the history of football.
Others would bring Pele, Diego Maradona and Johan Cruyff into the debate, while older fans might even throw Alfredo Di Stefano and Ferenc Puskas into the list.
It's a debate that will likely continue forevermore – but everybody agrees that Ronaldo and Messi are up there.
And in an interview with Piers Morgan last November, Ronaldo was asked whether Messi was the greatest player he had ever seen.
He responded: "Probably, yes. "Him and [Zinedine] Zidane probably, that I have played and fought with.
"Messi is an amazing player, he is magic. As a person, we share the stage 16 years. Imagine, 16 years we share.
"So I have a great relationship with him. I'm not a friend of his in terms of, what I mean friend is the guy who was with you in your house, speaking on the phone. No, but it's like a team-mate.
"He's a guy that I really respect the way he always speaks about me."
Zidane, meanwhile, managed Ronaldo at Real Madrid between 2015 and 2018, with the duo winning three Champions League titles together.
As a player, he is considered one of the greatest midfielders of all time. He combined superb passing and dribbling abilities with an eye for the spectacular.
His last act as a player was to guide the France national team to the World Cup final in 2006, but was sent off after his infamous headbutt on Italy's Marco Materazzi.
He retired from club and international football after the final, ending a career that saw him play more than 800 games for club and country, scoring over 150 goals.
In 2017, the Frenchman named Ronaldo as his greatest player of all time. He explained (quotes via ESPN): "There have been many players who have made history at this club [Real Madrid]. But nobody has done what he has – the statistics speak for that.
"What he has done is impressive. So I think yes [he is the best in history].
"You know I think Cristiano is much better [than me], although I had a good career."