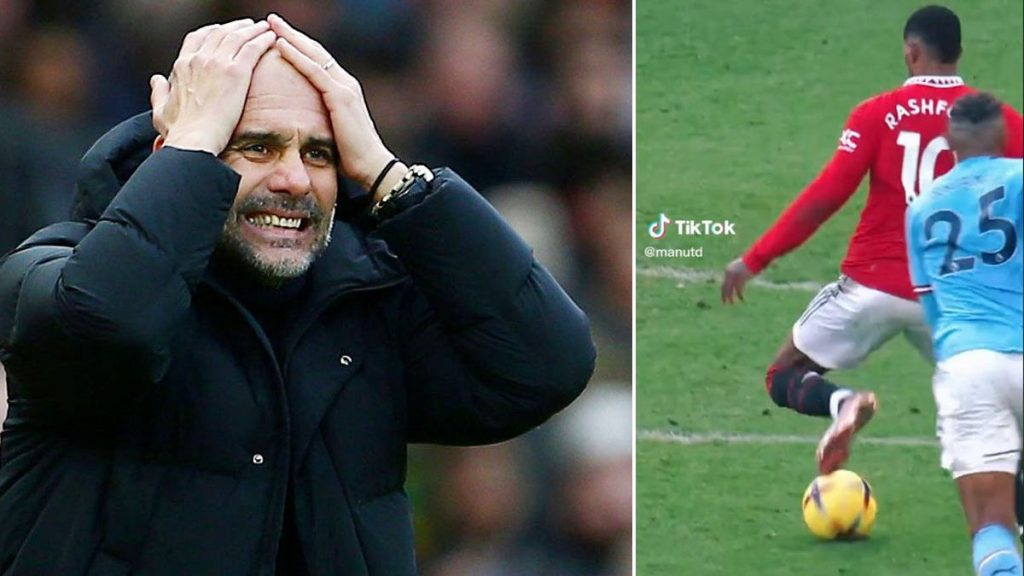 Manchester United have trolled rivals Manchester City after their controversial equaliser allowed Erik ten Hag's team to mount a comeback on Saturday.
Man City led at Old Trafford through Jack Grealish, but goals from Bruno Fernandes and Marcus Rashford was enough to turn the game in United's favour.




The result brought the gap between the teams down to only one point, while damaging City's title defence as they look to chase down Arsenal.
Though, Fernandes' equaliser was not without controversy, with Rashford in an offside position when Casemiro made the pass but ruled not to have interfered with play.
City made their feelings known on the incident, but the Red Devils have not forgotten about the war of words if a new TikTok post is anything to go by.
A video on United's TikTok channel shows a few seconds of Rashford running through – but not touching – Casemiro's through-ball before Fernandes put the ball in the net. And the chosen background music is 'U Can't Touch This' by MC Hammer.




While Rashford may have been the target of the initial pass, the decision not to penalise the England star did not go down well.
But, according to former Premier League referee Peter Walton, Marcus Rashford deserved credit for not touching the ball.
"The law was amended to actually counter that argument of whether he touches the ball or does he interfere with an opponent playing the ball," Walton said during BT Sport's coverage.
"He (Rashford) does neither, so as the law stands, he hasn't done anything wrong. It's actually very good play from Rashford himself."
Man City manager Guardiola disagreed with the call, though. "Rashford was offside and he was distracting our players," he said.
"Maybe I don't know what the rule is, but I know where we are playing. In this stadium, with this referee, it can happen.
"When we conceded the equaliser, it was important we didn't concede another goal so soon. That is something we have to improve. The referee decided not to intervene. Are we going to make a complaint? No. This is Old Trafford. It's like Anfield. You have to play better."
Former Manchester City defender Micah Richards, who was covering the match as a pundit on Match of the Day, shared Guardiola's stance. "It's a shocking decision, let's be honest," he said




"Me, as a defender, if you're playing up front and you run offside, I'm constantly adjusting my position towards where you're going to be. So I'm not worried about anything behind me – I'm worried about you. If you're offside, we're not bothered. You're trying to keep a high line, which is an art in defending, so now they're stopping you from doing the defending."