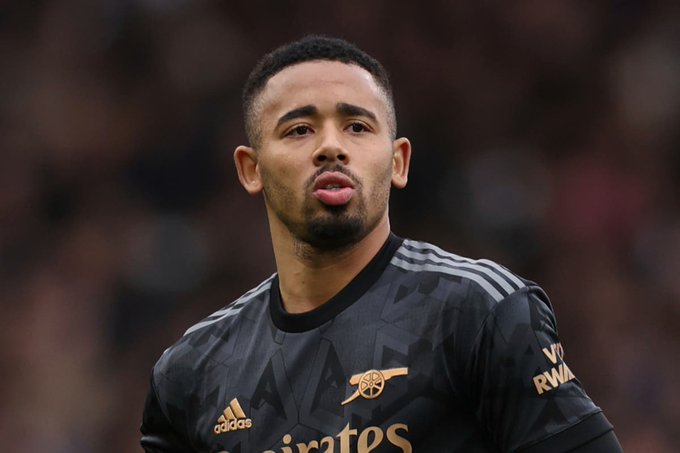 Paul Merson has claimed the return of Gabriel Jesus will 'cause problems' for Arsenal and Mikel Arteta.
Jesus enjoyed an impressive first-half to the campaign after a £50m move from Manchester City last summer window.




The 25-year-old's progress was halted by a knee injury he sustained in Brazil's World Cup campaign, with Jesus missing Arsenal's next 15 matches after the tournament.
He marked his return from the treatment room by coming on as a second-half substitute in Sunday's 3-0 Premier League win against Fulham.
Merson says Arsenal's first-half display at Craven Cottage was 'mind-blowing' but has warned the Gunners that Jesus' return comes with its own problems.
'Arsenal's performance in the first half at Fulham was mind-blowing,' the former Arsenal and England winger told Sky Sports.




'It was like watching Man City in their pomp and this was against a good Fulham team. It was scary. It was bordering on ridiculous.
'It felt like they had at least two more players on the pitch but the thing that will win Arsenal the league is starting matches well.




'I watched them at Leicester when they were under pressure for a result and they started well and were great.
'Then they were at home against Bournemouth and start poorly. Against Fulham they start well and it's a walk in the park. I don't see how they're going to be stopped if they start well in matches.
'Gabriel Jesus coming back is a bit of a problem for Arsenal because the lad will want to play – he didn't sign to be a bit-part player like he was at Man City.

'It will cause problems in time but at the moment it's like another signing.' 'Leandro Trossard could play for Man City,' Merson added. 'It's an unbelievable signing for £27m.
'When his agent said to him he was going to Arsenal for that fee he must have thought, "Is that all I'm worth?!"
'The lad could go in the Man City team on Tuesday and you wouldn't know any different, he's that good.
'But Arsenal play like Man City, if you put them in a light blue kit you would think they are. You don't get bigger compliments than that.'