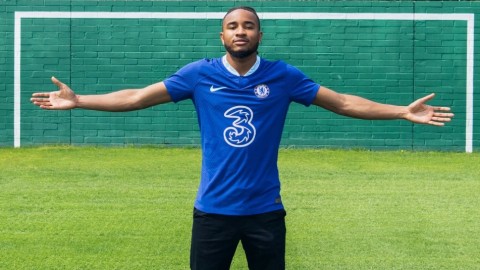 Christopher Nkunku has vowed to 'give everything for Chelsea' and has already named the two stars who he's most looking forward to playing with.
On Tuesday, Chelsea confirmed the signing of Nkunku from RB Leipzig in a deal worth up to £63million.




The German star is the first signing of the Mauricio Pochettino era at Stamford Bridge, though the transfer move was already a done deal as of last December.
Nkunku scored 23 goals in 36 appearances for Leipzig last campaign, winning the Bundesliga golden boot and the German Cup.

Thr Blues will hope to have better luck with him than they have with previous big money signings from Bundesliga like Kai Havertz, Pulisic and Timo Werner.
And though the PSG academy graduate concedes he is unfamiliar with the Premier League and England, he believes he can adapt quickly and may be helped by two fellow France internationals.
He added: 'It was not an easy decision to leave Paris, because obviously I had everything in my life there, but I had the support of my family and my friends also.
'And yeah, for sure it will help me now. I think now I can adapt also quickly and I hope I will do everything to be ready quickly and this experience before in Germany will help me for the future here.

'I don't know London so much. I only know some stadiums because I played here against Tottenham and Arsenal before. But apart from that I've never visited London before.
'I know some of the players. I know Benoit Badiashile and Wesley Fofana a little from the national team but I'm excited to meet them again, to get to know them better and to work with them here.
'We can say that I am a hard worker. I will give everything for the club, for the fans and to help the team bring some trophies. To give the best of my football. I hope I will make them as happy as I am to be here at this club.'