Manchester United midfielder Paul Pogba was left sporting a small battle scars on his face after getting 'destroyed' by teammate Victor Lindelof in training.
The Red Devils face Southampton on Monday at Old Trafford, with the squad taking part in a training session on Saturday as they prepare for the game in their pursuit of a Champions League place.




The France international uploaded a couple of pictures to his Instagram stories after training with the first two images showing him fighting for a ball with the defender.
In the third story, Pogba displayed the small cut above his lip as well as a bloodshot eye, saying: 'Victor you destroyed me! Look at this bro, look at this. Oh my god!'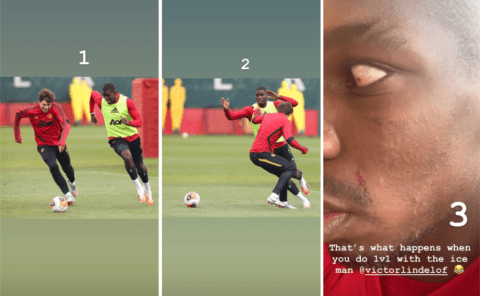 He posted the short clip with the caption: 'That's what happens when you do 1v1 with the ice man Victor Lindelof.'
Pogba appeared to be heading for an exit at United not too long but is now enjoying life once again, and United are hoping to commit him to a new long-term contract.
Speaking recently, Paul Pogba said: 'You can tell that the team is improving a lot.




'We play more as a team than we did before, we enjoy it even more, we defend together, we attack together, and this team is stronger as well.
'The players who are on the bench or who don't play every time, when they come on they help the team so the mentality is good and is right. All this together has put us where we are today.'