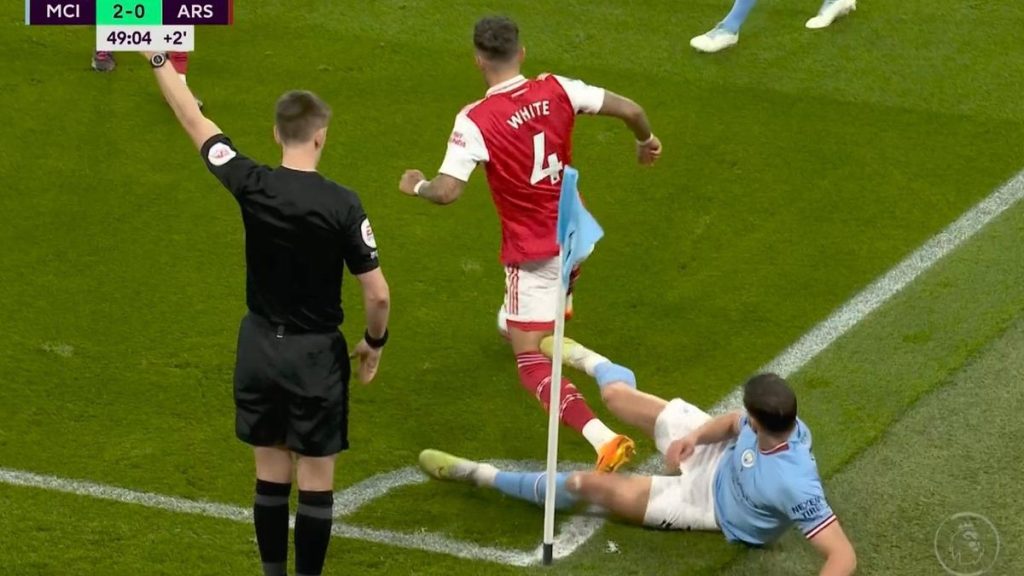 Former Premier League referee Mark Clattenburg has defended Michael Oliver for showing Ruben Dias a red card against Arsenal.
Manchester City had just gone 2-0 ahead against the North London side in Wednesday's Premier League title clash.




Ben White had the ball near the corner flag, with Dias challenging him in a physical battle which left the Mam City defender on the ground.
While on the floor, the Portuguese star appeared to kick out into the back of White's knee. Oliver blew for a free-kick to Arsenal and even showed Dias a yellow card.
Video Assistant Referee David Coote checked the incident, but saw no reason to upgrade Dias' punishment to a red card. And Clattenburg, a Premier League referee for 13 years, also backed Oliver's decision.
Clattenburg revealed that Coote may have been looking at how much force Dias had used in his kick at White. The former referee said there was little actual force from the defender and a booking was the right call.

"I think what they did is look for a potential red card. Did Ruben Dias use any force in the challenge with the kick out to Ben White? He didn't, it was more of a petulant kick, and therefore the VAR was correct in identifying that it was a yellow card offence," he told BT Sport.
Dias played all 90 minutes at the Etihad on Wednesday and was able to avoid picking up a second yellow card. He did see his team concede a late goal though, with Rob Holding scoring a consolation for the visitors.

By that point City had secured a crucial three points in the title race. Kevin De Bruyne put them ahead after only seven minutes, firing low beyond Aaron Ramsdale.
They doubled their lead just before half-time when John Stones headed in from a free-kick. That goal had to be checked by VAR before Coote was involved again to check the Dias-White incident.
De Bruyne scored his second of the game nine minutes after the break when Haaland squared a pass to him. And the Norwegian also got a goal of his own.