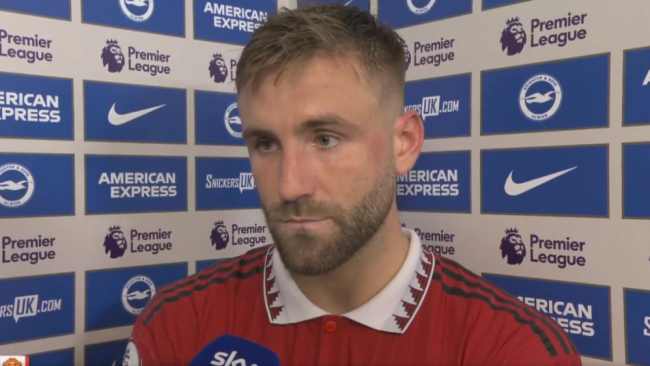 Luke Shaw concedes he made a 'silly mistake' as his handball saw Manchester United lose to Brighton in the 99th minute at the Amex on Thursday but pointed the finger at his team-mates, who wasted many chances.
Shaw handed the Seagulls a penalty in added time and Alexis Mac Allister fired beyond David de Gea from the spot to secure all three points.




Shaw opened up about his error at full-time and bemoaned the fact that Brighton were given a late corner – from which he produced the handball – and the England defender felt that he was nudged.
He also aimed a dig at his attacking team-mates and urged them to be clinical going forward as the Red Devils failed to score from five shots on target.
'I know the problem, we know the problem, the problem is we don't score,' Shaw told Sky Sports.
'In the first half we had three or four big chances that we should be scoring. I think that's happened a lot of times this season.

"If you look from the first-half, we could have been 3-0 up" 'But then again it comes down to my mistake at the end, but the chances we had we have to be scoring these goals.
'The game is completely different if we score early on with the chances we do make.

'Just not clinical enough. I don't really know what else to say to that. It's disappointing I lost us a point at the end, but if you look at the first-half we could have been 3-0 up.'
Speaking about his handball, Shaw added: ' It hurts a lot. Last minute. Last action, I think I got a little nudge but the hand shouldn't be there.
'I own up to it, take it on the chin, it cost us the game. It's tough. I can't even explain why my arm's up there. I said I got a nudge, maybe that helped my arm go up, but still it shouldn't be there.

'Even before the corner, the free-kick that was given away before that was never a foul. I'm not looking for excuses for what I've done, but there's no way that should have been a foul that led to the corner.
'Maybe that corner should never have happened. But I can't change that. I'm not accusing the ref of anything, but for me it wasn't a foul before, but hands up, silly mistake that cost us a point.'