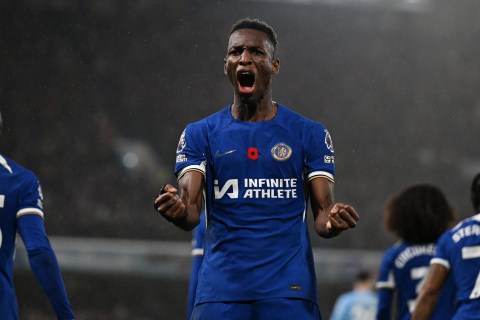 Alan Shearer disclosed that Chelsea contacted him after he voiced his concerns about Nicolas Jackson's performance.
The Premier League's highest goal-scorer characterized Jackson as 'inexperienced' and 'hesitant' in front of goal following Chelsea's 2-0 defeat to Brentford last month.
Since then, Jackson has netted four goals in three appearances, including a hat-trick in the 4-1 victory against Tottenham last Monday.
Shearer stated that Chelsea acknowledged his analysis as reasonable and is optimistic about Jackson's improvement since the Brentford loss.
'I mean the game just had everything from start to finish. It was entertaining and there were so many impressive performances, particularly from the guys in a Chelsea shirt. Jackson I agree, I was critical of his lack of movement a few weeks ago,' Shearer said on The Rest Is Football podcast after Chelsea's 4-4 draw with Man City on Sunday.
'I got a text from Chelsea to say that they didn't think it was over the top and that they have been working on one or two things in and around that.
'He was a lot better today and full of confidence after what happened earlier in the week and that showed today.
'It was a great game for everyone to watch. I think for the fans that is important to see those small steps. The coaching, we all know what Poch is like, he is a very good coach and he is the right man.
'They are definitely improving and they seem to be understanding what he wants.'
Speaking after Chelsea's defeat at home to Brentford last month, Shearer said of Jackson's display: 'To be more prolific you have to get yourself into scoring positions.
'There was a complete lack of movement from him [Jackson] today. He looks very raw and at times unsure what to do.
'You've got to make defenders work. Goalscorers don't hang around on the edge of the box like he does. It's his job to get on the end of it.'