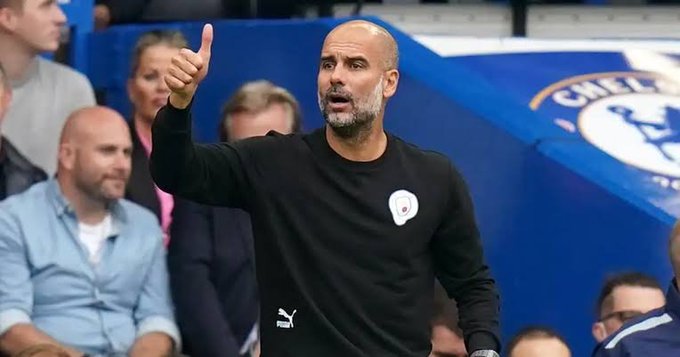 Pep Guardiola responded to claims that Manchester City dropped points in their thrilling 4-4 draw with Chelsea on Sunday.
He countered by highlighting the challenges Liverpool and Arsenal faced against Mauricio Pochettino's team.
The clash in west London ended in a captivating 4-4 draw, with Cole Palmer's stoppage-time penalty denying City the full three points.
Despite leading three times during the match, City couldn't secure a win, but they maintain their position at the top of the table as they head into the international break.
Although City, as the defending Premier League champions, were expected to claim victory against Chelsea, who have struggled for consistency this season, Pochettino's side has proven its resilience against top-tier teams like Liverpool, Arsenal, and Tottenham.
Guardiola emphasized that Pochettino has steered his team in the right direction, pointing to their commendable performances against elite teams.
While Chelsea has faced difficulties against lower-ranked opponents, Guardiola believes their results against Liverpool and Arsenal showcase Pochettino's positive impact on the team's trajectory.
"They are so dangerous, they are a really good team," Guardiola told Sky Sports. "Liverpool could not win, Arsenal… they were much, much better than Arsenal and then at the end Arsenal draw.
"It's Chelsea away and the people believe so I'm not going to say what Chelsea have done to do what they are right now as a team. It's getting better, the teams they play they good. They have physicality, they have talent, they have speed, they have bench, they have a lot of things.
"So Chelsea have built what they have done and decided to do for the next few years. Important that we go into the international break top of the league. I didn't expect it after the Arsenal game when we lost.
"We've qualified for the Champions League [knockout phase] and we're top of the league and where we come from, wow that is really, really good."
City's initial match following the international break is against Liverpool at the Etihad, with only a single point distinguishing the two teams at the summit of the table.
Liverpool's last away league victory against City dates back to November 2015, a few weeks after Jurgen Klopp assumed the managerial role at Anfield.