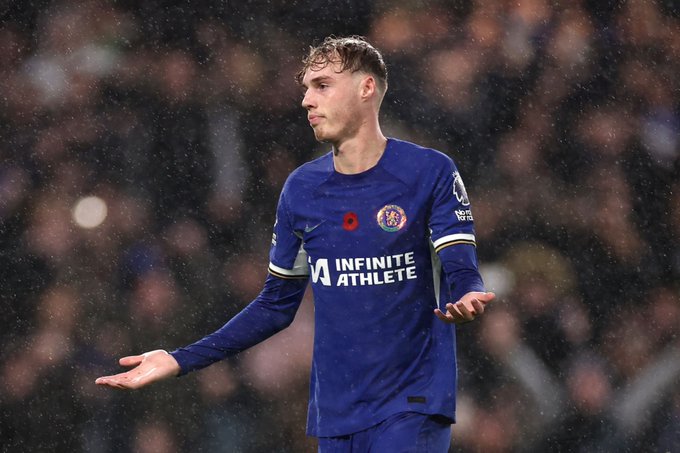 Chelsea will face an additional financial obligation in the event that Cole Palmer earns his debut for the England national team.
The 21-year-old has received his first call-up to Gareth Southgate's senior squad, showcasing an impressive start to his career at Chelsea.
Since his £40 million transfer from Manchester City on deadline day, Palmer has found the net four times for the Blues, all from penalty kicks, with the latest goal occurring in the thrilling 4-4 draw against his former club, City.
Initially expected to join the Under-21s, Palmer, along with City's Rico Lewis and Aston Villa's Ezra Konsa, has been brought into the senior squad due to injuries to players like Callum Wilson and James Maddison.
As England, having already secured qualification for Euro 2024, prepares to face Malta and North Macedonia, Palmer is eager for an opportunity to showcase his skills.
If Palmer makes his debut, The Sun reports that a secret clause in his seven-year Chelsea contract will trigger an additional fee, benefiting City.
Chelsea will be required to pay a specified amount, with the majority of the £2.5 million add-ons tied to achievements at Stamford Bridge, including appearances, goals, and winning silverware.
Palmer played a crucial role in the Under-21 Euros victory during the summer, and former England international Jamie Carragher has tipped him to make an appearance in the senior side at the upcoming tournament in Germany.
Despite being eligible to play for the Caribbean nation St Kitts and Nevis, ranked 147th in the world, through his father Jermaine, Palmer, born in Wythenshawe, has consistently emphasized that representing his birth country is his top priority.
"There's people over there that have talked about it but not properly," he told SPORTbible in an exclusive interview.
"The target is for England but if things don't work out you never know."