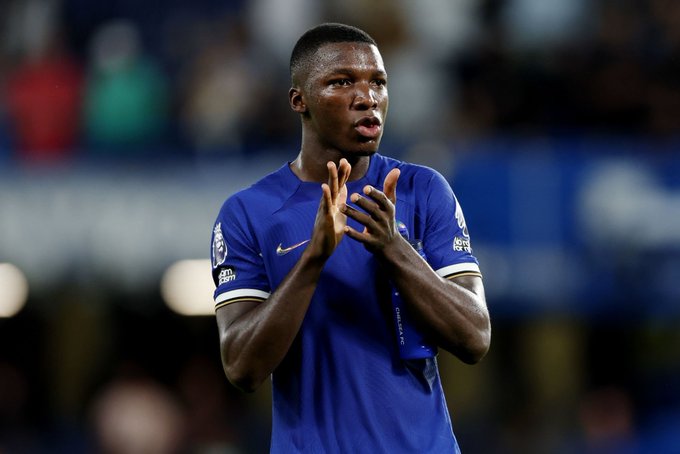 Moises Caicedo has expressed admiration for his Chelsea colleague, Cole Palmer, describing the young player as exceptionally talented and a source of delight for the entire squad.
At just 21 years old, Palmer made an unexpected transfer to Stamford Bridge from Manchester City on September 1, with Chelsea investing £40 million in this promising talent.
Swiftly establishing himself in Mauricio Pochettino's starting lineup, Palmer has netted four goals in the Premier League within nine appearances.
His most recent contribution was a last-minute penalty, securing a 4-4 draw against his former team, marking his fourth successful penalty in a Chelsea jersey.
Caicedo has been thoroughly impressed by Palmer's performance and commended the significant positive impact he has had on the team in west London.
'We trust Cole very much. He's a very talented player and a very good penalty-taker, so we were all very confident when he stepped up,' said Caicedo.
'He is showing his best form at the moment and proving just how good a player he is. We are very happy for Cole and very happy he is playing so well for Chelsea.'
Pochettino has understandably been delighted with Palmer's arrival from Manchester. The manager is impressed not only by the player's talent but also by his composure, leading to his inclusion in Gareth Southgate's England squad this week.
'He's a playmaker that connects the whole team and makes us play better,' said the Blues boss. 'He is showing from the day he arrived here, he doesn't feel the pressure.
'The character and talent he is showing is very good for the team. I am so happy for him.'
Speaking about the epic 4-4 draw with City on Sunday, Caicedo said: 'We're very happy with the performance of the team as Man City are a great side. We gave it our best and it was a good team performance, but of course we would have liked to win the game.
'However scoring a penalty at the end to draw, it shows good character and I think it has to be considered a good result.
'We are growing as a team. We are working hard together, we are listening to the coaching staff and I think step by step we are improving every day.
'We are working very hard to improve as a team and it's been a good week for us. We had an incredible win at Tottenham and even though we didn't beat City, we put in a very good performance and showed we can challenge with these teams.'