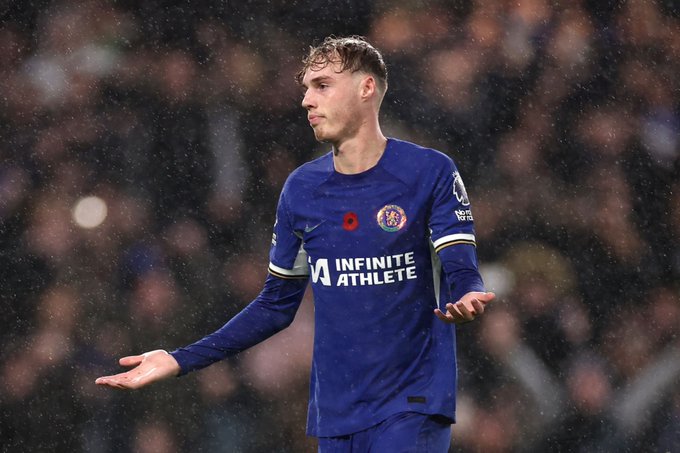 The Premier League is known for its intense atmosphere, making moments of humor rare. But, a touch of lightheartedness broke through during Sunday's gripping eight-goal encounter between Chelsea and Manchester City.
The amusing incident unfolded as City's strategists were strategizing for a free-kick. A surprising addition to the discussion occurred when Chelsea's Cole Palmer playfully joined his former teammates' huddle, lending an extra ear to the proceedings.
"I was just having a laugh to be honest. I think Erling found it pretty funny. I don't think the others did," said Palmer.
Haaland burst into laughter before playfully pushing him away. This small incident, in its unique way, revealed much about the 21-year-old, just like the composed injury-time penalty that leveled the game at 4-4 in what was considered the match of the season.
Despite the grand stage and high stakes, he approaches his football with instinct, seldom getting bogged down by overthinking. This mindset has propelled him to success at Chelsea this season, following a potentially dizzying £42.5 million transfer from his childhood club.
Having been part of the England team that secured victory in the European under-21 Championships just four months ago, he now finds himself in the full squad as a result.
Taking a moment to pause at St George's Park, Palmer allows himself a brief interlude for reflection and assessment.
"It's been crazy. From winning the Euros to signing for Chelsea then getting called up here. It's all happened so fast. I am excited for it all," he said.
"I wasn't even thinking of an England call-up when I first went to Chelsea. I just wanted to play more games and have an opportunity to prove myself. Getting called up here is just a bonus."
Despite Pep Guardiola's assurance that he would receive increased opportunities in the current season and being selected for the Super Cup final against Sevilla, a match in which he scored, Palmer remained skeptical.
"You know how good a manager Pep is and he gave me the opportunity and platform to kickstart my career so I'll always be grateful to him," he said.
"But with the competition that was there, the players that were there, the players that they were going to try to sign, I wasn't sure. Who knows what would have happened if I had stayed. Maybe I would have played more, maybe not.
"But I think the decision to go to Chelsea so far is paying off." Palmer's only issue with the move south is the traffic. With four goals and four assists in 14 appearances, the attacking midfielder is thriving under the tutelage of Mauricio Pochettino.
"A lot of people told me how he is with young players and ever since I went to Chelsea I can see it. I'm enjoying working with him and I'm excited to carry on working with him," he said.
"He has given me the confidence and licence to go where I want on the pitch, where I feel I can use my strengths so I'm grateful for it."